Share On
Should we still stir the desire for novelty while we are experiencing a major transformation of lifestyles — one which cannot occur without paradoxes?
MEN IN COMPLETE FREEDOM
The man of today, and tomorrow, wants to experience fashion for himself without dictates. It's no longer a question of "daring," it is about being himself in total freedom … even by imposing a new definition of Men's fashion that goes beyond clothing. Today we integrate challenges, such as environmental questions, in our everyday lives and promote a more reasonable consumerism – consuming less but better – without losing the hedonism that is so much a part of today's co-existing generations.
These cohorts of multi-faceted consumers with less formal, and more emancipated, committed lifestyles master classic codes in order to better shift them. They invent new ways to wear clothes and rework past, present and future references with ease and discernment. It's all about expressing one's personality and sensitivity rather than being seduced by simplistic archetypes. There's no doubt about it: men's fashion today reflects the creative energy running through an industry that is currently undergoing a total upheaval.
Novelty yes … as long as it has meaning. Freedom has become the new rule of order in both attitudes and silhouettes. Freedom to be one's self, freedom of movement, etc. Masculinity is present but is more fluid and released from conventions, protocols or prejudices. The arrival of creative directors at luxury companies, like Virgil Abloh at Louis Vuitton or Kim Jones at Dior, confirms this mutation and profoundly shifts established codes. New spaces open to promote creative freedom as young designers and big companies break away from standards, reinterpreting them in their own way with a more personal freedom to propose an assertive, committed fashion at every level.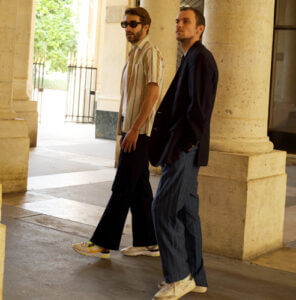 Confronted with Man's impact on the ecosystem today, it is imperative to reinvent our lifestyles. More than ever, fashion seeks inventive, sustainable solutions by using upcycling, traceability and innovative fibers. In this direction, designers stimulate and defy creative processes to demand a sustainable kindness. We recreate and recycle to give life to a versatile wardrobe that adopts all styles – from tailoring to "sustainable outdoor" looks – while emphasizing recycled and innovative fabrics. A new attitude is defined, one that is free, responsible … and ultra-personal.
To meet these new attitudes, our Men's Fashion SS 21 trend book brings the formal and casual together in a single volume since it is time to go beyond traditional breakdowns, emphasize a vision of lifestyles and illustrate different consumer typologies. We have thus applied Peclers Archestyles to provide solutions that will allow us to better capture and decipher these evolutions based on the values of each lifestyle. Our ambition for brands: decipher and update men's fashion differently, to inscribe it with an ethical, durable approach that is sustainable over the seasons.