Share On
NOVEMBER 23 & 24 2022 IN MILAN
The Italian session for this show takes the opportunity to highlight the history and know-how of Italian denim.
Many talks about eco-responsibility, Made in Italy, as well as presentations of projects and installations around eco-responsibility including various stakeholders in the chain.
Our experts give you an extract of their analysis of the show, to be discovered in its entirety on our digital platform Peclers+!
ECO-RESPONSIBILITY MORE THAN EVER
WHAT CONTINUES:
Organic cotton is developing with cleaner aspects. We note the major involvement of suppliers around cotton resulting from Regenerative Agriculture, which places at the heart of its culture the rehabilitation of agricultural systems through good water management and soil quality.
Certifications: Regeneagri and Regenerative Organic cotton.
The influence of vegetable fibers is progressing, linen-cotton blends and more particularly hemp-cotton blends that are both strong and supple.
Artificial fibers: Lyocell is developing in blends with cotton or hemp to which it brings softness, fluidity, and flexibility. The development of biopolymers with the use of agri-food residues such as soy protein or banana to create new fibers.
The use of recycled cotton or polyester. The Ciclo technology allows the composting of polyester yarns by adding an additive. Elastane is also recycled and cleaner without releasing microparticles in the wash.

Without chemical additions and/or with energy savings, natural dyes are derived from fruits, flowers, plants, shells, roots, spices (such as turmeric), and clay.
Worked on cotton, they give faded colors but also ranges of very bright pastels. Gray and bluish shades are sometimes obtained with recycled fiber compositions that retain the original color of the fiber without being over-dyed.
Non-dyed denim: non-dyed denim is expressed in ecru, but also in a palette that expands around naturally colored cotton.

ECO-RESPONSIBLE INNOVATIONS
Several projects presented on the sidelines of the show,
BIODEGRADABLE FIBERS:​​​​​​​
B210, the first material that is more than 99% biodegradable and degrades in 210 days. Distinguished by its applicability to products containing synthetic, stretch or non-stretch fibers.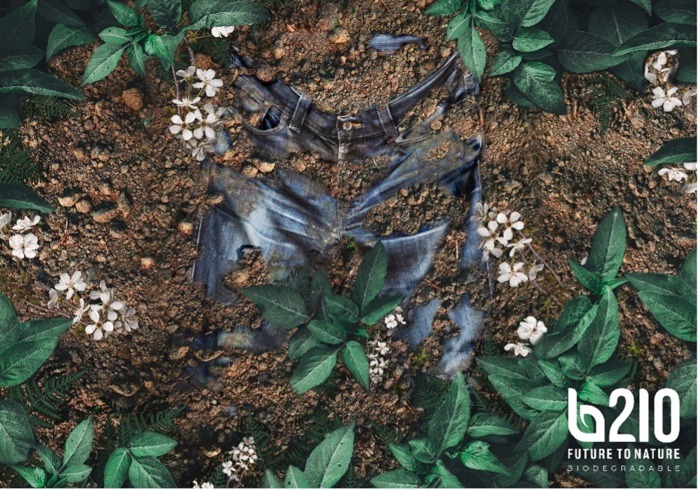 LESS POLLUTING AND LESS ENERGY CONSUMING DYES:​​​​​​​
The first company to produce indigo dye in-house using "SMART INDIGO" technology, an indigo dye that does not use highly polluting hydrosulfites, using only indigo pigment, caustic soda, water and electricity.
An Italian mineral chemistry company that offers reactive dyes that can be degraded with ozone, without chlorine or permanganate.
A Chinese factory that uses aniline-free indigo dye and vegetable dyes. As well as the Bigbox dyeing technology that saves 95% of the water usually needed.

NEW POSSIBILITIES FOR FIBER TRACEABILITY​​​​​​​
Technological supports are being developed to trace the entire supply chain in order to obtain more detailed information on working conditions and environmental practices.
Biomarkers from "Helixa", molecular markers from "Applied DNA Science" or luminescent nanoparticles from "FiberTrace" make it possible to incorporate tracers into the heart of the fiber that is resistant to the various treatments and processing stages.
SS24 HIGHLIGHTS
HERITAGE
Back to the roots and origins of denim, the workwear spirit is revisited with:
Denim with an authentic look in dark indigo, intense, eco-responsible, and durable with recycled polyamide or polyester fibers designed to resist, or Lyocell blends for lighter weights and softer touches for shirting.
Speckled aspects.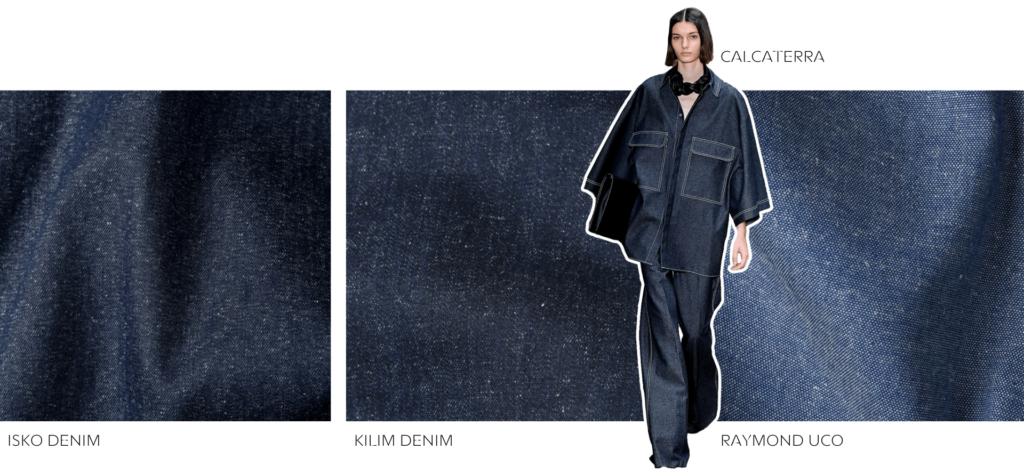 Used & vintage effect:
Patinated washes with dusty tones, effects aged by time and reddened, purplish, burnished over-dyes inspired by oxidation.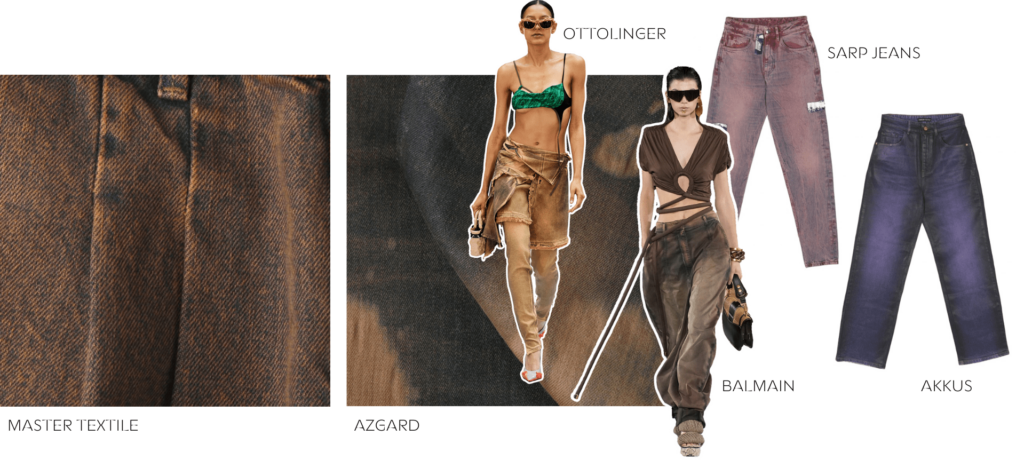 Wear placed with a spray to fade the initial color, micro-wear with a laser finish with eliminated renderings, and patched effects.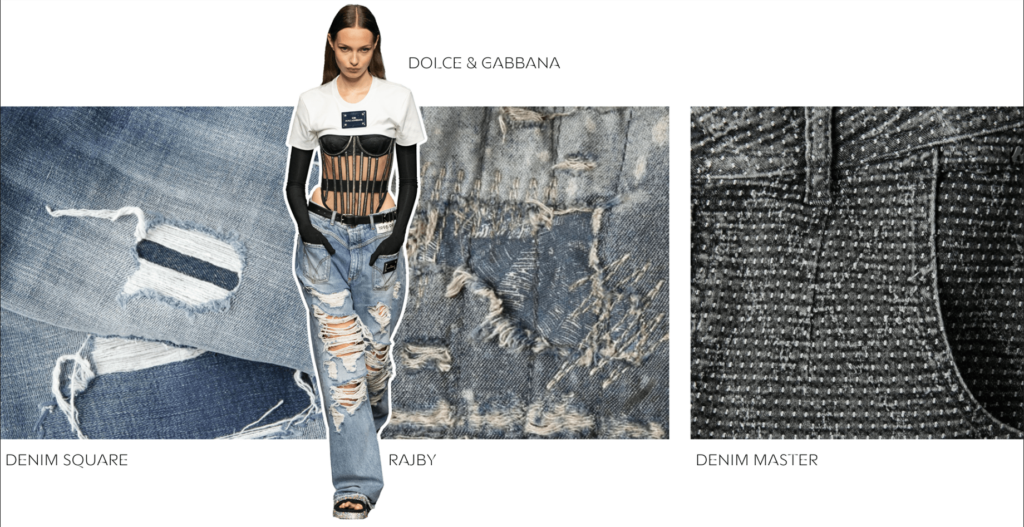 To discover the rest of this Trend Report and the other denim highlights of the season, go to Peclers+. Contact us to get your access !
Exclusif content for Peclers+ members
READ MORE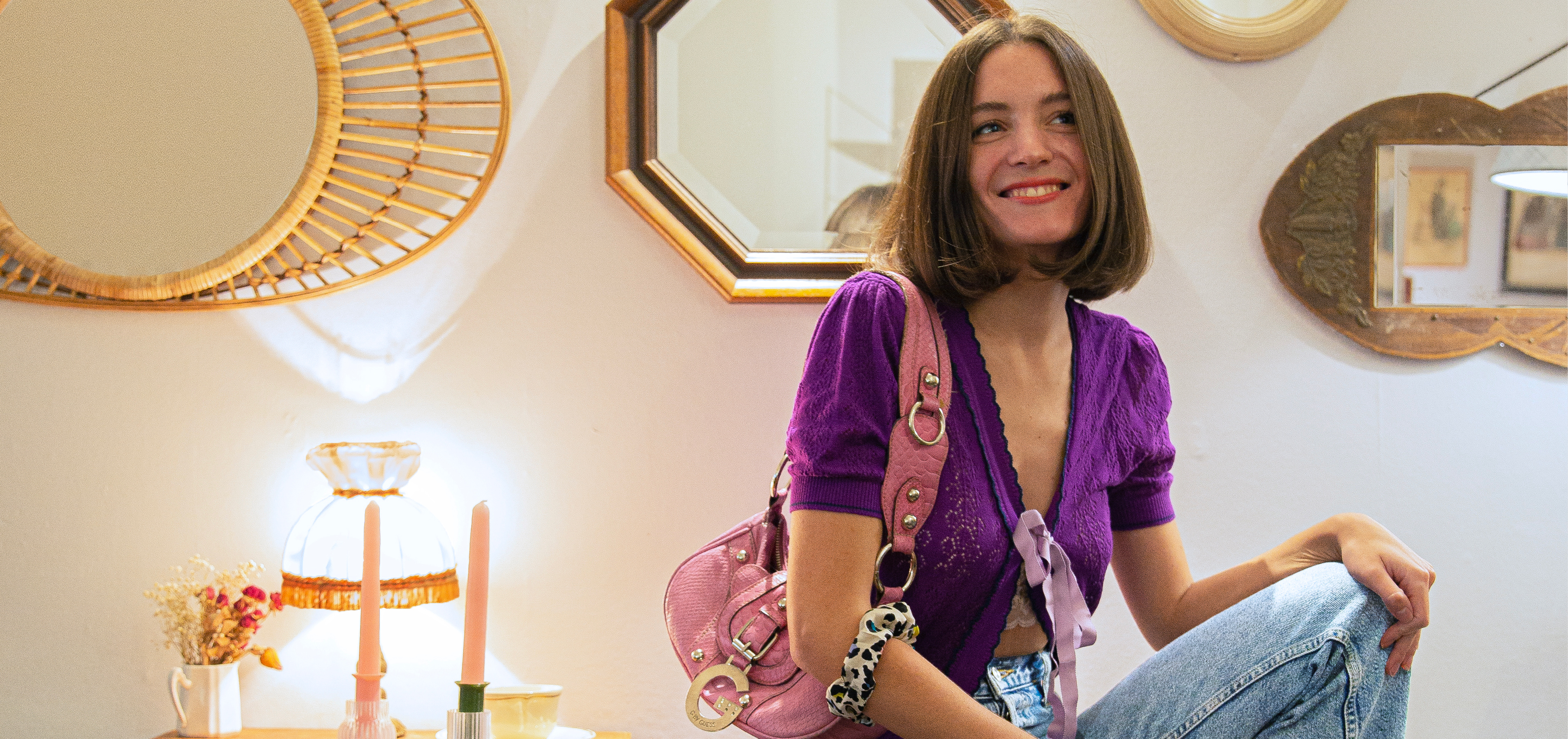 SS24 Fashion Key Items trend book
SS24 Fashion Key Items trend book
SS24 Fashion Key Items: the authoritative trend book for active[…]
Discover the trend book