Share On
And what if 2020 announced the renewal of fashion weeks? Initiated by Copenhagen, the capital of an eco-responsible fashion, Fashion Week must once again become a springboard to share new visions for the industry's future and meet our era's profound transformations. It is being shifted by a generation of designers who turn towards a positive future that is, at the same time, not naïve. Their optimism predominates to help rediscover self-confidence and set an example.  The proof: despite today's environmental challenges, next season's collections have never been as contrasted or as aspiring to change.
To anticipate next season's Women's fashion trends, let's hear the viewpoint of Elisabeth Prat, Peclers' Director of Fashion and style  
Sandrine Maggiani: Beyond the transformation already begun in the fashion weeks, what can we expect from designers for F/W 20?
 Elisabeth Prat: that they capture this need for sustainable clothing as a new foundation to influence the fashion industry to move towards nurturing values.That they propose a balance between purely aesthetic values and a more reasonable fashion. A garment is primarily a way to appear in the world while expressing one's personality and commitment.
So style must take priority over the effects of a fashion that is either throwaway or consumes too much energy when produced.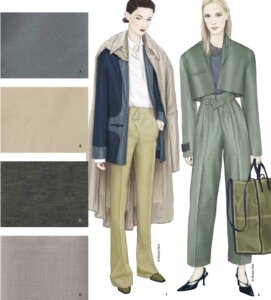 SM: Today it is hard for a designer to assert his or her uniqueness.What do you think makes a collection stand out?
EP: Its impact. Its relevance.A silhouette with a strong, even spectacular visual look. It doesn't have to be "flashy"!
It comes from the impact of a volume, the subtlety of a color, the visual aspect of a print or else a material that can be lively, textured and comforting. The ideal will be pieces whose sensory aspects have a sort of addictive fascination for those who wear them!
Whether they are recycled, organic, traceable or eco-conceived, raw materials, that have been neglected for a certain time, now become vital!
SM: If you had to retain one trend for 2020 and beyond, what would it be?
EP: A functional, utilitarian garment enhanced to adapt to new uses and movements. New tailoring for elegance, knits for comfort, fluidity for sensuality, a well-conceived neo workwear that can adapt to the city and outside the city.
We speak once again of a "garment's construction", of the fundamental work of design. The difference now resides in daring designs without excess. It is important to cultivate the unexpected effect of a cut that will transform the body and the garment's appeal.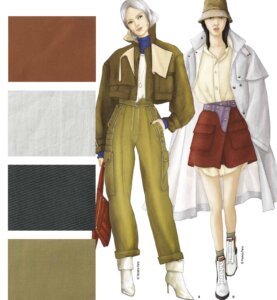 SM: We announced the disappearance of streetwear to the profit of sportswear which is more in keeping with the renewal of a more sophisticated elegance and new bourgeoisie. What will be streetwear's legacy?
 EP: Streetwear's legacy is endless. The sneaker put spring in our step, its transgenerational nature meant it could adapt to every style. There's no going back!
With streetwear, silhouettes took on a softer, slower attitude, an assumed nonchalance and suppler, androgynous cuts that are still sensual.
SM: What materials will we wear in F/W 20?
EP: Supple, unctuous leathers. Knits and jerseys in relaxed, body-conscious or second skin versions. Linens that now become the new cotton. We like linen surfaces with their micro-imperfections. This material is highly-resistant, doesn't pollute much and can be recycled.
But for the essential, I would say materials that "have body and are at one with the body".
Don't miss Peclers coverage of WOMEN'S FW 20 FASHION WEEK +
Follow the pulse and Key trends from the Copenhagen FW 20 on  Peclers+