Share On
A must-attend event for the entire international creative community, Milan Design Week is making a remarkable comeback on the occasion of its 60th anniversary, scheduled from June 7 to 12, 2022.
Milan Design Week: our experts give you an exclusive glimpse of this Trend Report, available in full on Peclers+…
SALONE DE MOBILE
At Salone Del Mobile, innovation and creativity are in the spotlight. SaloneSatellite presents its selection of young talents, including the first prize of the Satellite Award: the Nigerian Lani Adeoye, who shows us a furniture inspired by traditional techniques, some of whose lines border on biomimicry.
EURO CUCINA
Peclers' Environments & Design team has also focused its attention on Euro Cucina. Faithful to its quality materials and advanced technologies, the event dedicates its 23rd edition to materiality. On wood and metal, it is expressed in rhythmic and tactile reliefs. For mineral materials, smooth and polished surfaces alternate with rocky and matt textured aspects inspired by cleaved stone. We are witnessing a strong return of veined stones in contrast.
FUORISALONE (Off)
During the Fuorisalone two anniversaries are particularly noticed: the 20th anniversary of Tom Dixon who offers us a retrospective of his most beautiful pieces and the baptism by Philippe Stark of the Miss Dior Chair through a scenography all in chiaroscuro.
This Milanese escapade at the Fuorisalone allows us to confirm the thematic orientations developed in our last Environments & Design trend book FW23-24.
Two initiatory journeys towards creation are taking shape: the first one through crafts and ancestral know-how, referring to our "Anchoring" theme. The second invites us on a journey through time, myths and realities, in line with our "True Myth" theme.
« ANCHORING »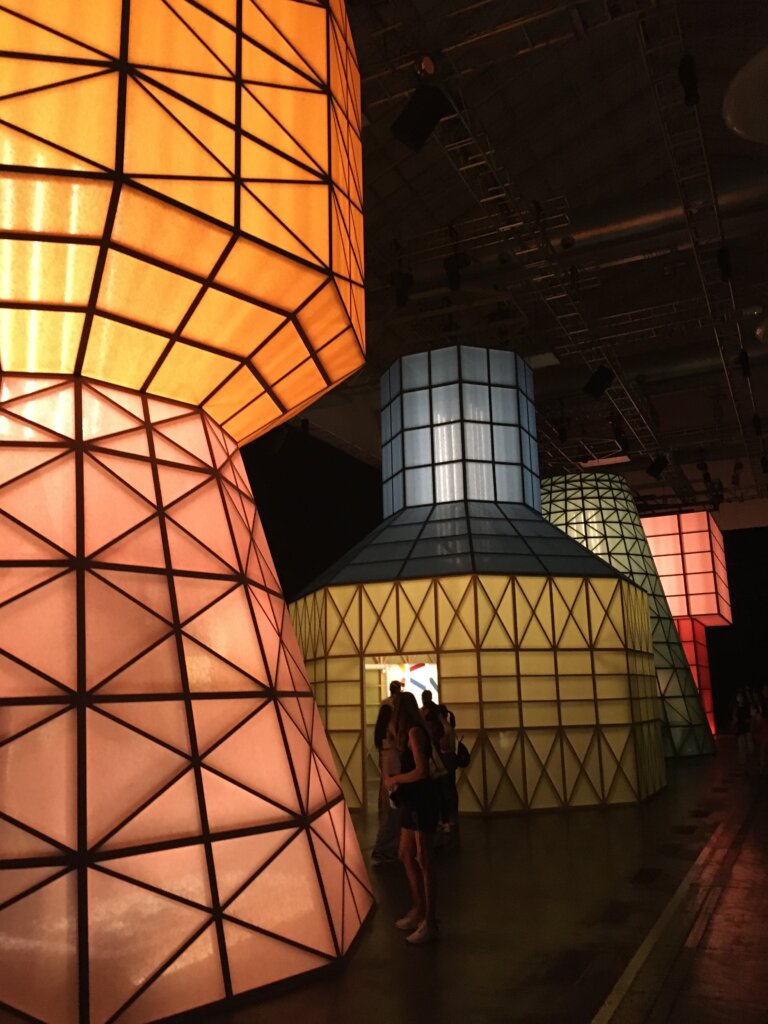 Like last season we find the house of Hermès at the Pelota. Combining exceptional know-how and chromatic intensity, the heritage of the house is perpetuated this edition.The crafty-chic codes are this time raised with modernized folkloric influences.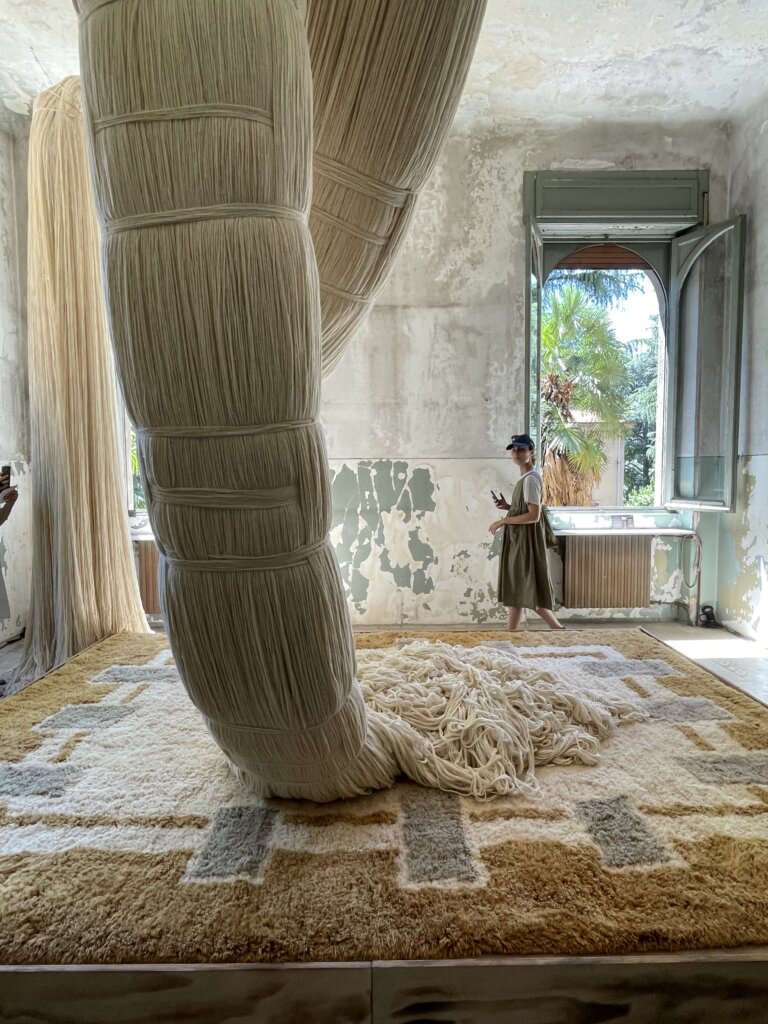 At the Baggio Military Hospital, Alcova continues this trend in a comforting atmosphere, sublimating natural materials. Cultivating an ambiguity between traditional craftsmanship and contemporary graphics, the cushions in natural fibers and telluric colors by Giulia Ferraris for Atelier Vetra are set on mineral slabs and adorned with twigs in their raw state. More monumental, a long sheaf of woolen threads sits above the Beni Rugs made by the communities of the Atlas.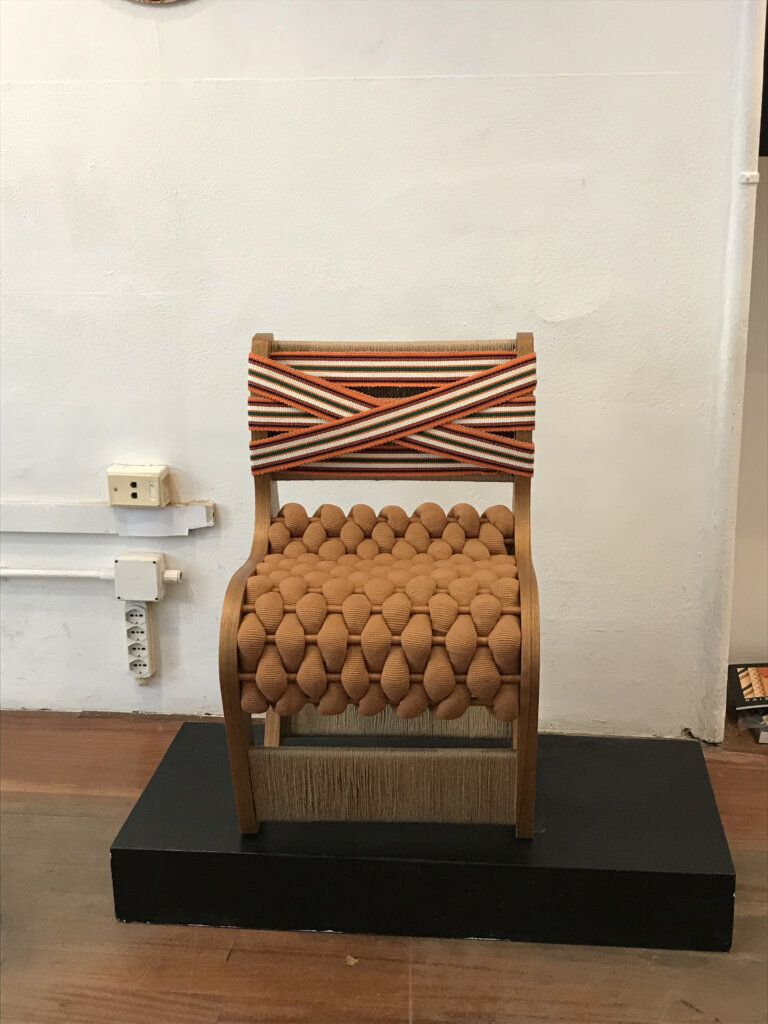 Luciana Texeira presents her Raiz da Trama collection for Supapo Criativo, composed of weavings, lighting and seating, a beautiful tribute to Brazilian craftsmanship from Mato Grosso in a rock painting palette.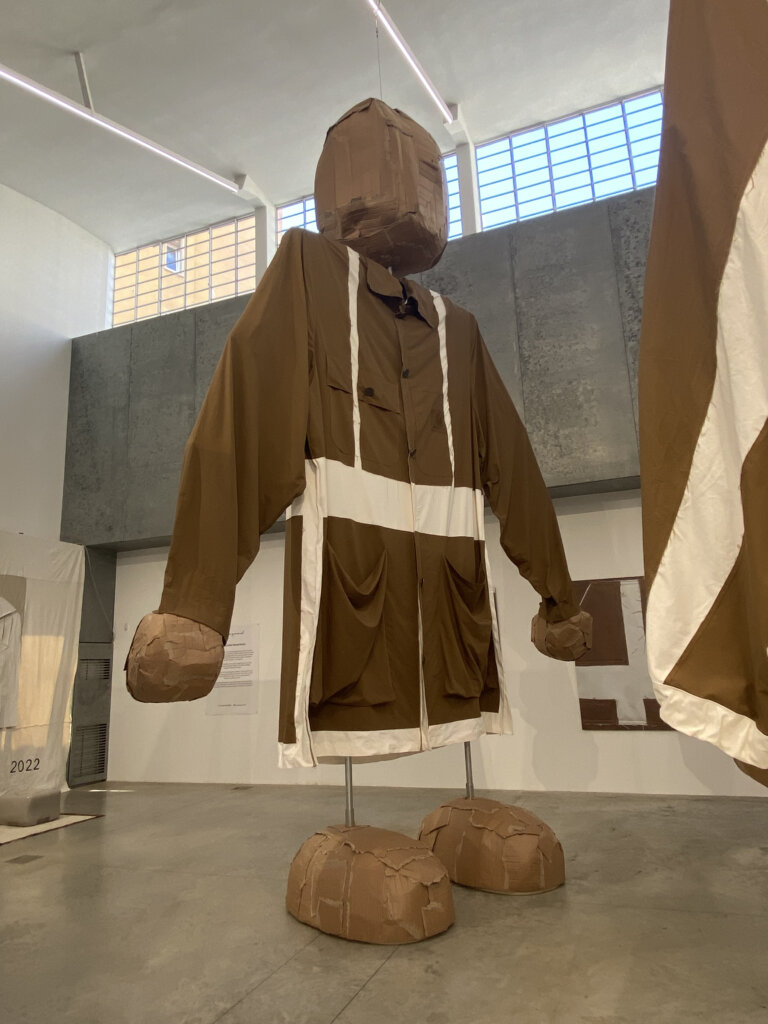 The expected Toogood x Carhartt collaboration happens at Spazio Maiocchi with the installation "Re-Cut". Huge totem-humans overhang the room, dressed in simple but constructed raw work uniforms.
« TRUE MYTHS »
Another strong trend transports us into a mysterious and strange universe that makes the darkness a setting animated by metallic touches that are revealed by a veiled light.
The Miss Dior Chairs are staged in the dark, alternately lit by beams of light. The Louis XIV baroque style is hybridized with the industrial modernity of Stark. The tone remains shifted: the armrests are punctually removed from the original Medallion model (1947), the lines are refined, stretched for an aesthetic translation freed from constraints and all in sophistication.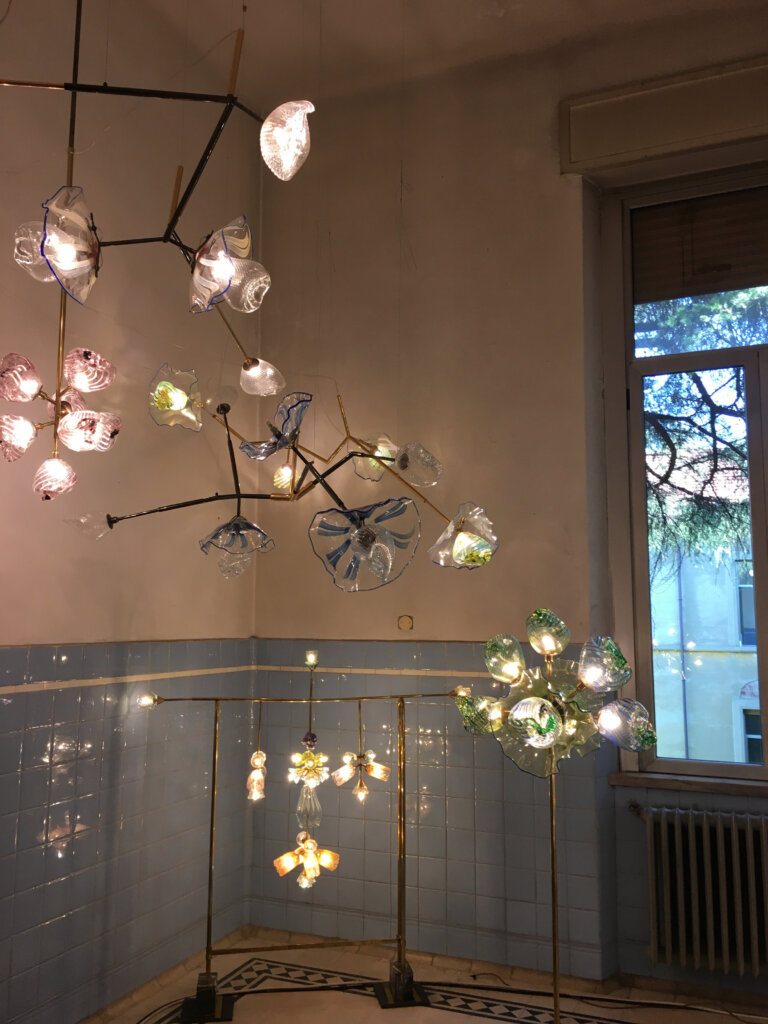 Through his lighting project "Reflective Garden", Sema Topaloglu revives the bewitching universe of a fantastic baroque and an extravagant nature. Surrealist flowers in blown glass, engraved, threaded, inspired by Murano.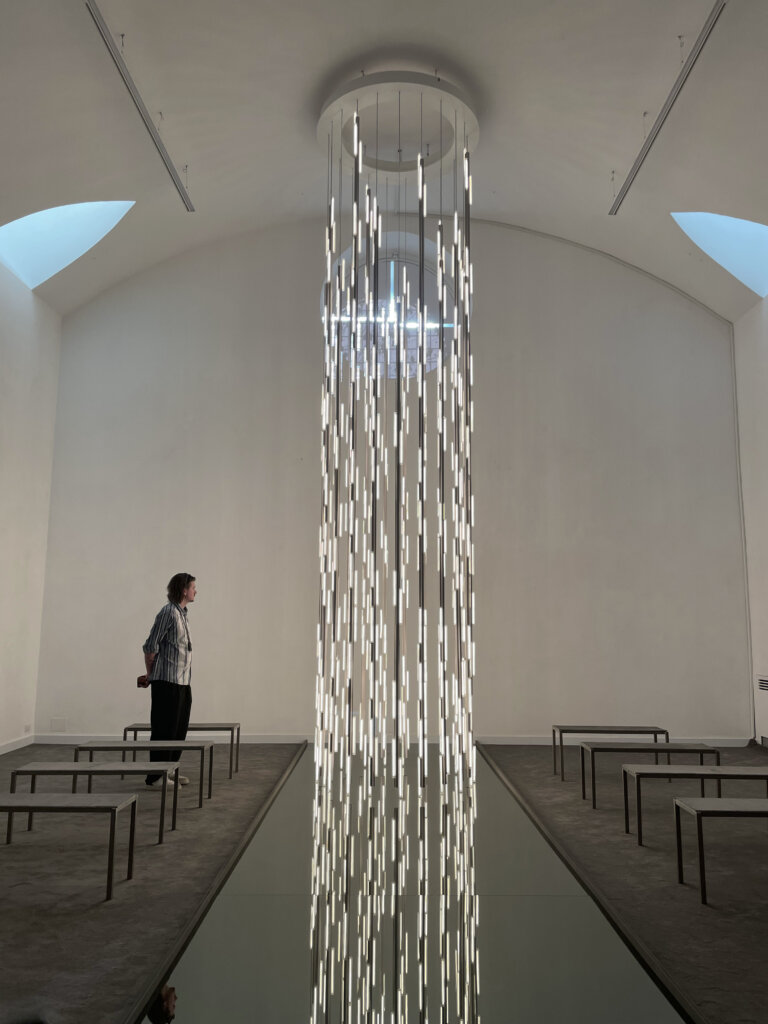 The experience continues with "Let there be light", a 6-meter aluminum luminary. In a large church-like room, the viewer receives the intensity and the miracle of a light reflected in a twelve-meter mirror.
Want more inspiration? Discover our Environments & Design book: a trend book that highlights 4 lifestyle value platforms and translates them into creative scenarios aligned with emerging consumer attitudes. Key colors, materials, fabrics and materials samples…
Would you like to discover this analysis in full? Contact us to get your access to the Peclers+ platform
Exclusif content for Peclers+ member
READ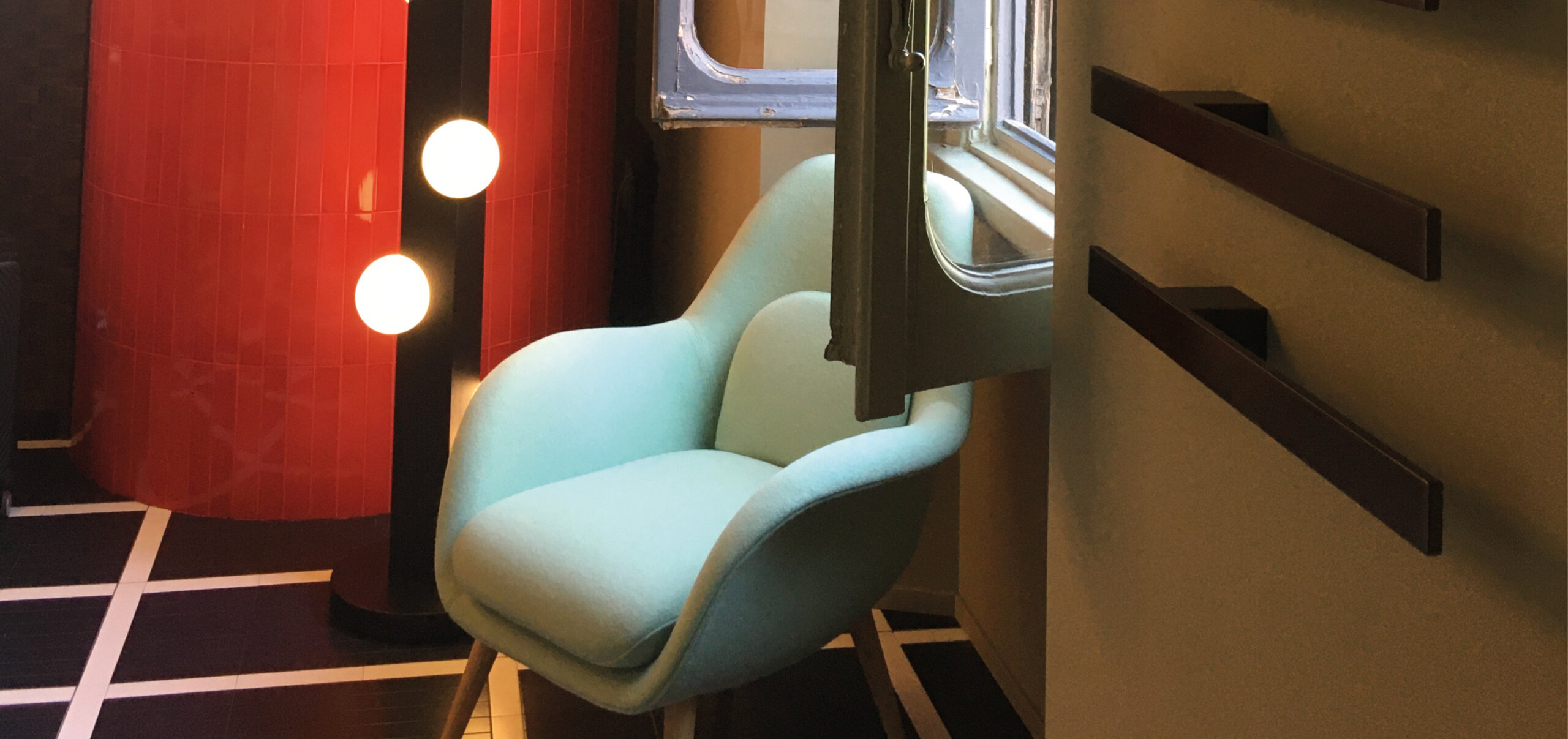 FW23-24 Environments & Design trendbook
FW23-24 Environments & Design trendbook
FW23-24 Environments & Design Trends: "The relationship with time is[…]
Discover the trend book