Share On
This period of extreme uncertainty is more than ever a time for us to reflect on the future. Without yet being able to take a step back, at a time when mutual support and action are a priority, industry players are united in solidarity.
Each at their own level, they are anticipating and acting to provide solutions. With our teams, we will share creative initiatives with you to continue to accompany and inspire you.
DONATIONS FOR RESEARCH AND CARE GIVERS
Together Nike Foundation and Nike have contributed 15 million dollars to fighting Covid-19. The Nike Foundation will also donate a million dollars to the "COVID-19 Solidarity Response Fund", an organization founded by the United Nations Foundation.
Zadig & Voltaire will give 20% of the sales profits from its new collection to the Fondation des Hôpitaux de Paris – Hôpitaux de France (Paris Hospitals – French Hospitals Foundation).
Sézane committed itself to giving 10% of the sales profits from its new collection to the urgent aid foundation of the French Hospitals Foundation.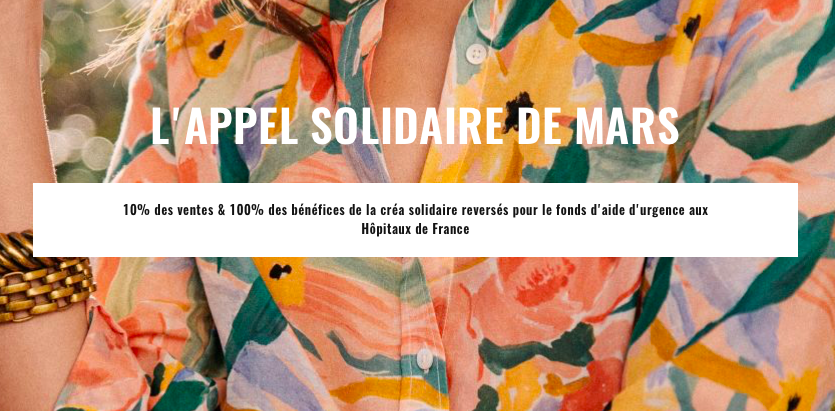 Ba&Sh will donate 25% of the sales made on its e-commerce site over the next two weeks.
The Richemont group, owner of Cartier, Van Cleef & Arpels and Chloé, will donate 1.2 million euros to fight the pandemic.
Bulgari made a donation to the Lazzaro Spallanzani Institute in Rome, one of the first European institutions to isolate the Covid-19 gene sequence.
Dolce & Gabbana made a donation to the Italian universities Humanitas and San Raffael.
Versace donated 200,000 euros to the San Raffaele Anesthesia and Intensive Care Hospital in Milan.
"During this period it is important to be united to help those in need, sick people, doctors and hospital workers who have been working tirelessly and heroically for several weeks to protect those we love". Donatella Versace and her daughter
Giorgio Armani donates 1.25 million euros to hospitals and civil protection in Italy.
To help Italy, Kering donated 2 million dollars to the local health care organizations where the group's brands are present.
Since March 6th, LVMH has mobilized its French perfume and cosmetic sites (Christian Dior, Guerlain andGivenchy) to produce the hydroalcoholic gels distributed for free in French hospitals.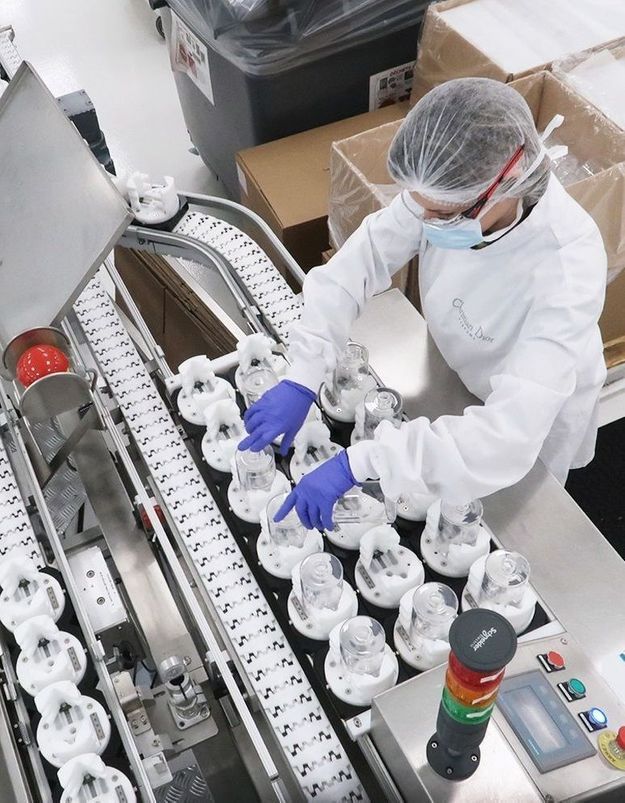 image: LVMH
L'Oréal is committed to supporting all European players in the fight against coronavirus. This includes the manufacture and free distribution of hydroalcoholic gels in hospitals, old-age homes, pharmacies and food stores plus financial aid to hair salons or small and mid-sized companies.
To fight against the sanitary mask shortage in Italy, the textile manufacturer and fashion brand Miroglio announced it will produce 60,000 masks for Italy.
ACTIONS FOR SOLIDARITY, PROTECTION AND GREATER PROXIMITY
Young brands
Tuffery, jeans workshop made in France has stopped the production of jeans in order to make protective masks from fabrics and meet – free of charge – the demand.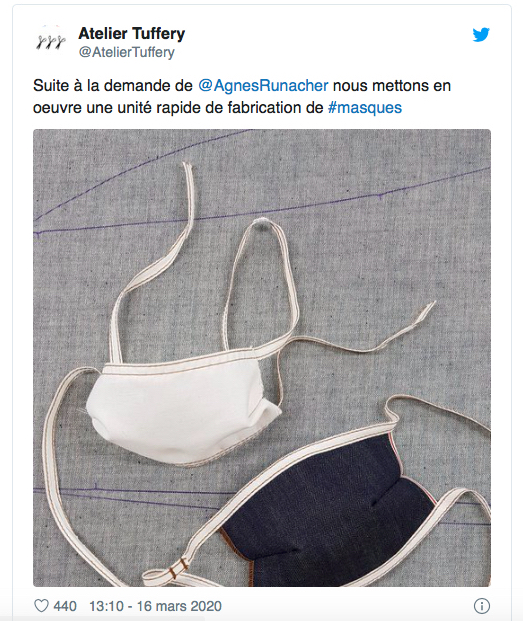 @tuffery
"The current situation is a cataclysm for the economy. We are going by sight. Today, benevolence must be an absolute priority. Our masks are made of polycotton, the canvas used to line the bottom of jeans pockets. They're simple barrier protection, but it's better than nothing…" Julien Tuffery
Pyer Moss, a brand founded by Kerby Jean-Raymond, has transformed its New York offices into a donation center for medical equipment including masks and gloves.
It also contributes $50,000 in financial support to help small brands and businesses created by women or social minorities "currently in distress" and to which it is already very committed.
Chiara Ferragni, blogger and founder of her fashion brand, has launched a fundraising campaign to help hospitals in Milan. Together with her husband, the Italian rapper Fedez, they have already raised around 4 million euros.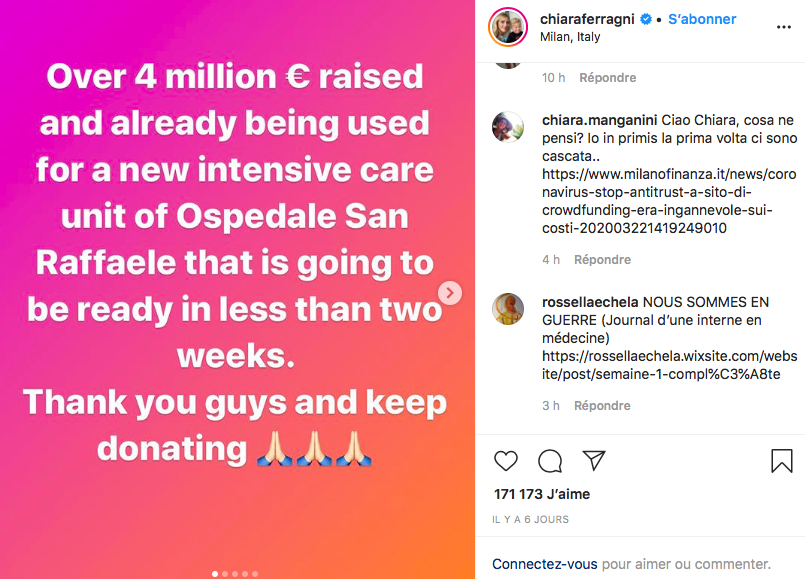 @chiaraferragni
Cosmetics Brands
The Body Shop will be donating 30,000 units of its cleansing products to local shelters and senior communities throughout the U.S. and Canada. "As the situation evolves, they will continue to reassess needs to provide adapted supplies".
Indie brand Farmacy is donating 10,000 meals a day for 30 days to Feeding America. The brand also created a Feeding America donation page, and is currently matching every contribution made by consumers.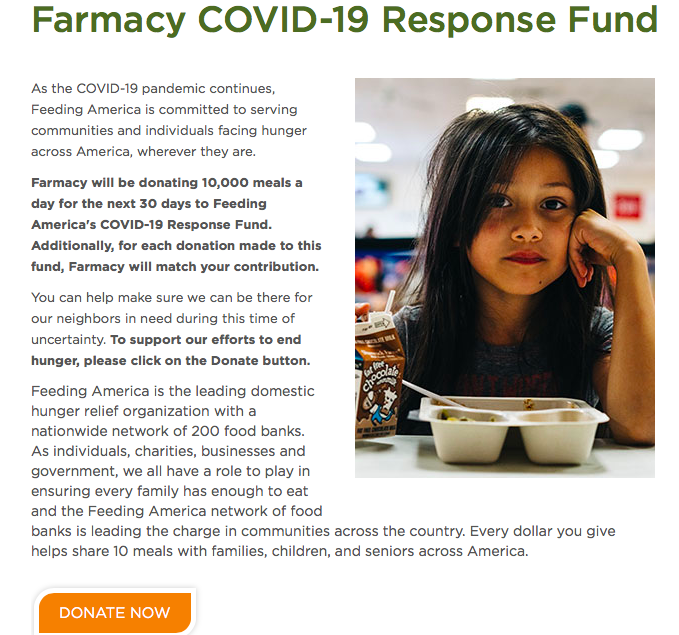 Haus Laboratories, Lady Gaga's brand, will be donating 20% of last week's profits to local food banks in Los Angeles and New York to help those affected by the closures of schools, offices, and resource hubs.
More than ever, we need to share new ideas and visions, because together we are stronger to build the future we want. Let's stay in contact .