Share On
The Men's fashion fair in Florence just ended with a half-hearted season. Lower attendance, an offer that lacked novelty, the obvious absence of brands that have been present for many years … But Pitti Uomo 97 did chose the "United Nations of the World" flag as its theme, a sign of openness and international commitment represented by the presence of Scandinavian and Chinese brands that were grouped together in communal areas.
A report of our Men's Fashion teams on the key points, favorite items and four days of images that will define menswear silhouettes for 2020.
An exclusive extract of our analysis to find, in its entirety, at Peclers+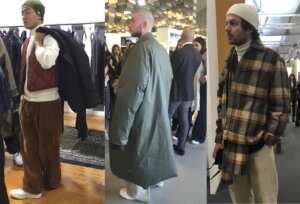 KEY TRENDS
Outdoor classics 
Outdoor should continue this season. More than just a trend, as treated for our Reboot theme in the Men's FW 20-21 trend book, this wardrobe uses multiple references: techwear, urban trekking, authentic … and is conceived to adapt to all climate conditions. Parkas, down jackets with puffy quilting, plaid flannel shirts, oxfords with protective crepe soles … all reinforce clothing's utilitarian aspect in the urbanized universe for outdoor fans … Even the nautical mood like the classic sailor top, is developed in a Docker's version of workwear…
Vintage is the new modern
We sense a desire to return to a Vintage spirit with the right touch of heritage, craftsmanship and old-style elegance worn with a youthful nonchalance. This new equation of styles, that we treated in the No Age, No Tag theme of our men's casual FW 20-21 trend book, plunges us into a 40's retro spirit with shorter, pegged, pleated pants, 70's geometric patterns and signals the return of British jacquard knits in Fair-Isle versions…
Sustainability everywhere!
Environmental concerns have fairly discreet, yet surely-anchored, sustainable developments in the new vocabulary of brands. For the first time, Pitti even dedicated a section to "eco-fashion" since, as we show in our recommendations, the priority is on sustainability, recycling materials and sourcing for production, retail and communication … all to find a balance between originality, wearability and profitability. Whether it concerns one-off propositions or true brand concepts, consumers' demand for who to dress must be accompanied by a growing responsible consciousness. And this trend is here to stay.