Share On
Every year, Peclers Paris brings together experts from all horizons – futurists, sociologists, semiologists and strategists – to identify the weak signals of the world's future major evolutions. The tremors of new aspirations, beliefs, relationships with oneself and with others, which will change the consumer landscape in the short/medium term. This study then feeds both our consumer intelligence and trend forecasting work (aesthetics and product uses), around six pillars: belief, nature, hedonism, identities, science, and space-time. Here, taken from our new CONCERTATION PROSPECTIVE, Fracas Créateurs, is an analysis of a new relationship with time. Or how confronting the reality of time can help us find solutions to our increasingly complex projection into the future.
EVOLUTION: FROM FANTASIZED TIME TO OVERCOMING THE QUESTION OF TIME
Faced with a world often described as vuca (*vulnerable, uncertain, complex and ambiguous) and a difficult projection into the future, the fantasy of remaking society by achieving a fair balance between private and public is reaching its limits. Driven by a deep-seated instinct for survival and the desire to define the contours of a desirable society, individuals are turning to a wide range of solutions, from which a somewhat shaky form of rebirth is emerging.
And while digital technology continues to inspire dreams of a new society, it is more and more at the service of the real world than a parallel reality. Individuals rely on technological mediums to overcome uncertainty. They draw on progress to extend the boundaries of society and even humanity, overcoming crises by adopting agile and creative methods to resiliently transform their way of looking at the world.
As they flirt with the instability of continuous change, they necessarily call into question the imprescriptible limits of time, and in particular change their view of its inescapable fleetness. With the impossibility of projecting oneself into the future, a compulsive relationship with the present emerges: real time takes precedence over fantasized time.
MACRO-TREND 1: REAL-TIME SOCIETY
Unable to truly project themselves in the future, or get back to better times, individuals feel trapped in a long, suspended present. So as not to experience it as an alienating straitjacket, they turn it into an opportunity to experience time differently. Between the last-minute society (everything very quickly and without commitment), and the last-mile society (everything right away), they seek to make the most of the moment. To do this, they turn every second into a quest for eternity, fleeing both boredom and the passage of time to live in a state of urgency (key trend 1: "Binge Living"), while trying to control the "here and now" (key trend 2: Instants of Eternity).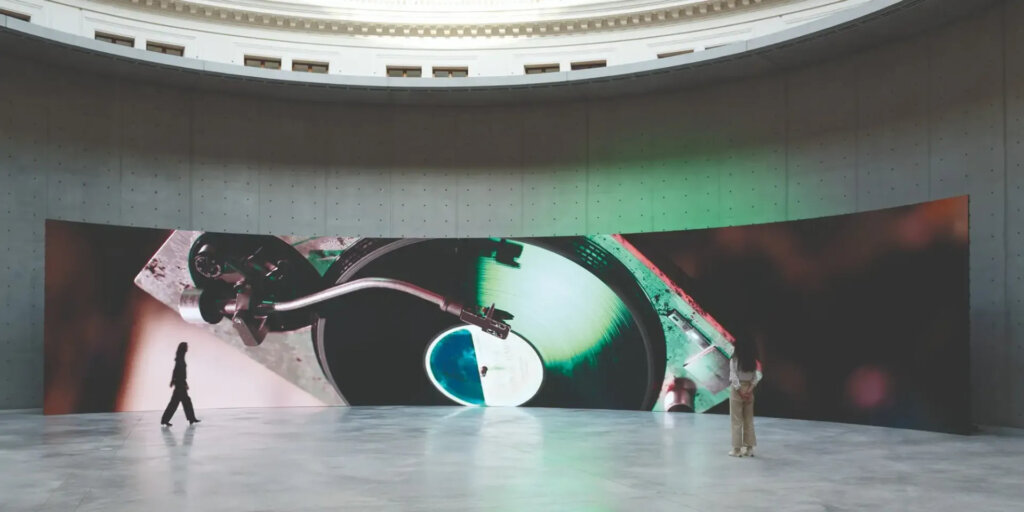 Time no longer, Anri Sala, Bourse du Commerce, Une Seconde d'éternité, 2023
Inspired by a quote from Charles Baudelaire, "What can the eternity of damnation matter to someone who has felt, if only for a second, the eternity of delight?", Anri Sala offers an immersive experience that challenges the notion of present time. Using sound to convey the beating heart of the world and fleeting images to relativize the idea of anchoring, he blurs sensations and shifts sensory boundaries.
KEY TREND 1: « BINGE LIVING »
Between escaping reality and embracing the unpredictable, some people embrace life at breakneck speed. Facilitated by the ultra-servitization of the economy, a last-minute society is growing: from record-breaking travel consumption (global annual growth of 4.41%) to compulsive fast-fashion purchases (Shein accounts for 12% of the total CO2 emitted by teenagers) and the way video formats are becoming hyper-consumer goods, this no-holds-barred lifestyle celebrates the ephemeral and the adoption of compulsive, endorphin-boosting behaviors.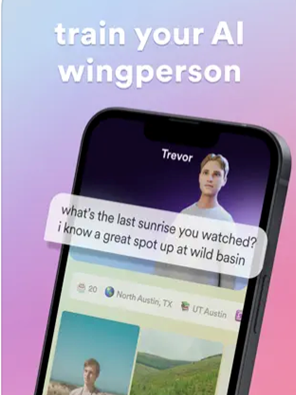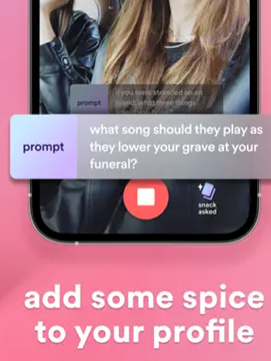 Anti-boredom Dating Snack, AI Wingperson, Meet Muse Media Inc, Canada, 2023.
Rejecting the long view, the younger generations are adopting technological tools that optimize human connection. As indicated by its name, the dating app thinks of the information delivered by users to seduce as "consumable" content. Created for those under 36, Snacking uses TikTok video formats, has developed an AI to chat for users, and forces users to be reactive. A sign of the gamification of relationships, this app responds to a generation that doesn't want to "waste its time".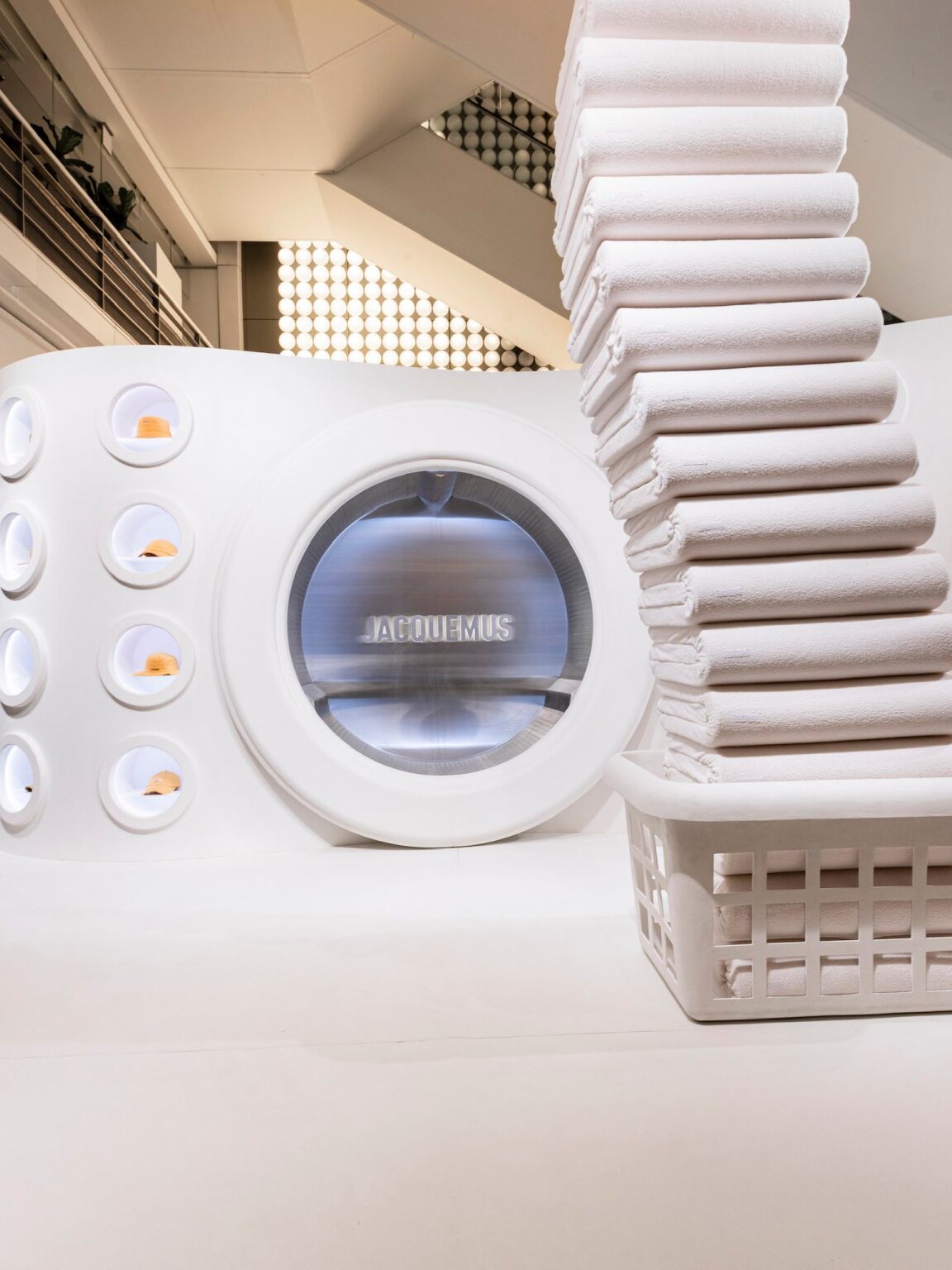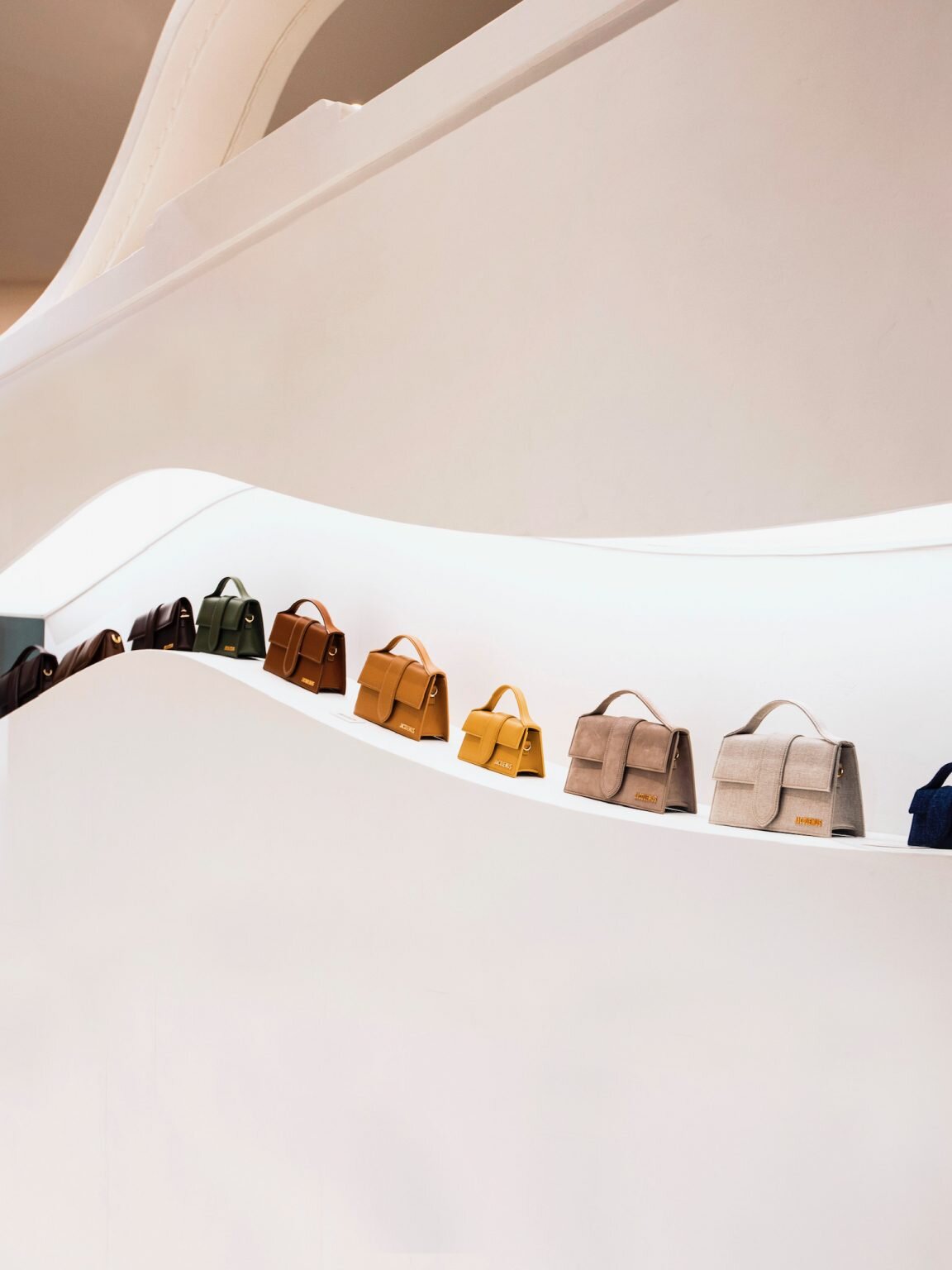 Luxury pop-up, Jacquemus pop-up, Galerie Lafayette, France, 2023
The ephemeral, for the continuous renewal it brings, is seductive. Live shopping (20 – 30% conversion and loyalty growth) and pop-ups are exploding. Jacquemus, multiplying immersive pop-ups with varied artistic directions, offers intense shopping experiences. In the parisien department store, Jacquemus has developed an experiential space in which consumers are immersed in the XXL aesthetics of the brand. By gamifying the experience, brands give consumers what they want: a surprise.
KEY TREND 2: INSTANTS OF ETERNITY
Faced with the difficulty of projecting themselves into the future, people try to give time a form of finitude. The fleeting nature of the present moment, which ceases to exist as soon as it is named, is a source of anguish. Personal archives bear witness to and freeze a "here and now", enabling it to shine into the future. New technologies accompany this quest for eternity, to the point of making us dream of immortality.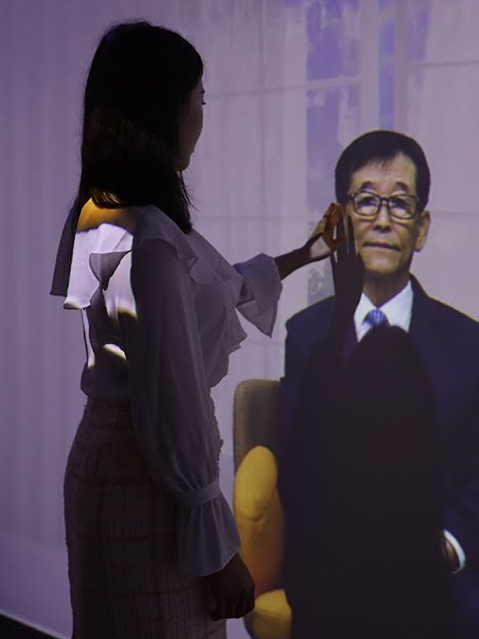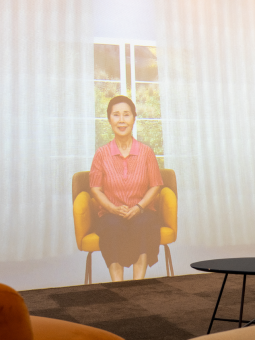 Side-stepping death, Re;memory, DeepBrain IA, Korea, CES, 2023
Death, the inescapable end, continues to be one of the main sources of anxiety for individuals who, in seeking to control the passage of time, are above all seeking to divert it. New technologies are therefore at the service of this desire for eternity. The company originally founded to create avatars has developed an AI that enables people to communicate with their loved ones once they're dead. Through interviews conducted beforehand, it gathers information and then enables 30 minutes of exchange.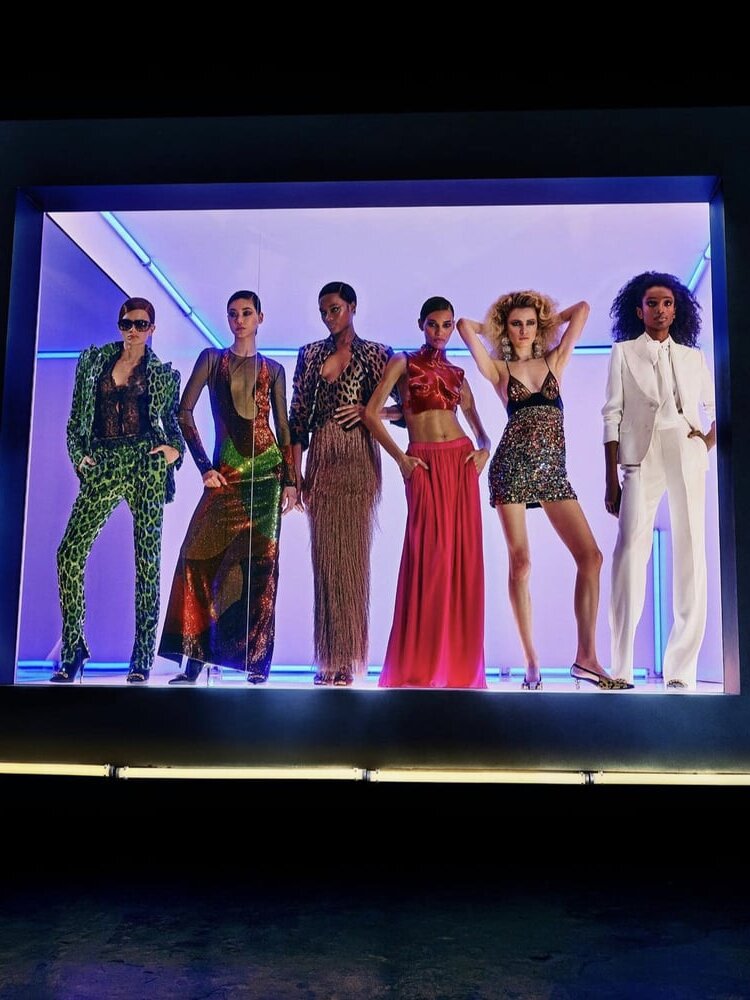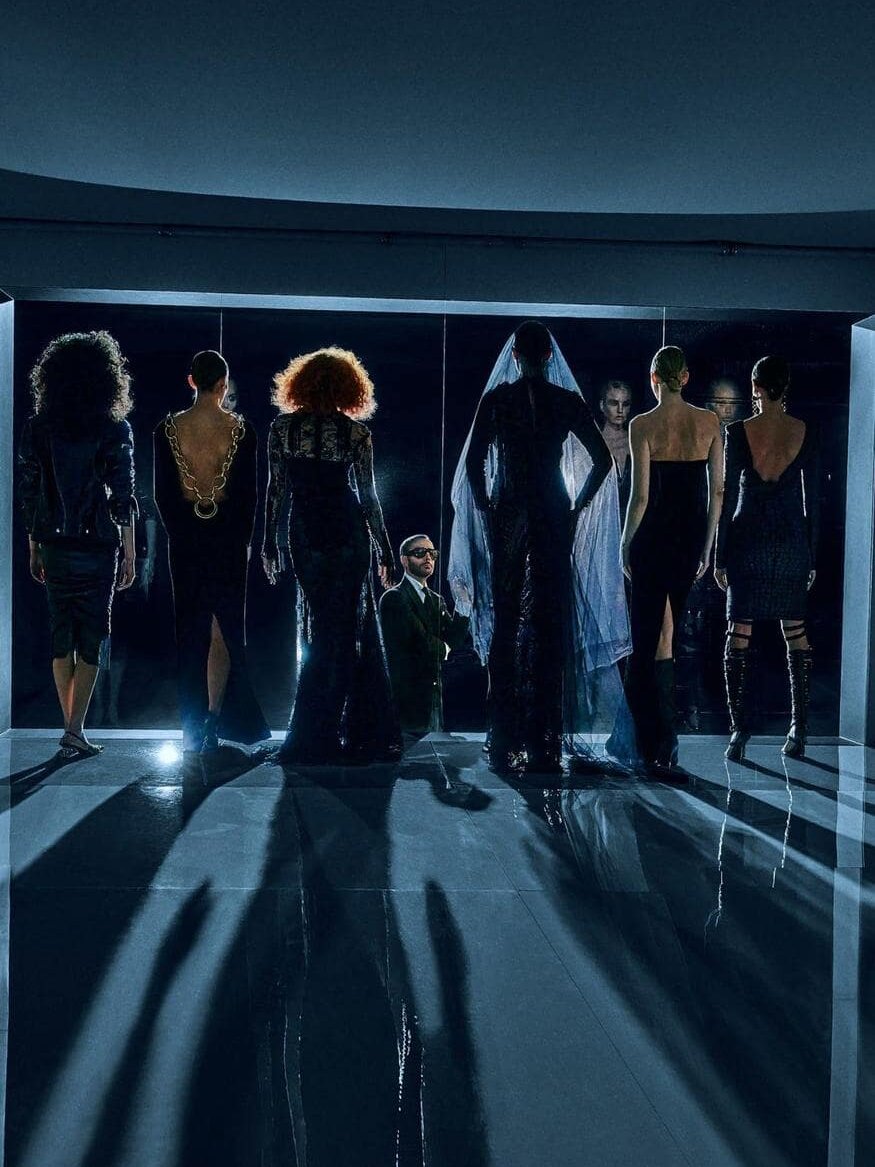 Eternal archives, Tom Ford Archive, Tom Ford, Fall/WInter 2023 2023.
The idea of the archive, for its ability to pay homage to the past in the future, inspires this society in search of control. For his latest collection, American designer Tom Ford has re-edited his iconic looks and collaborated with filmmaker/friend Steven Klein to immerse us in a time capsule. In the perpetual scrolling of fashion, boxing up the passing of time by paying homage to space-time markers seems to allow us to control its unravelling.
HOW TO EXPLOIT THIS MACRO-TREND
Create experiential and ephemeral sales spaces, where people can immerse themselves in the brand's constantly reinvented codes.
Offer snackable branded content: quickly consumable, entertaining, mesmerizing, immersive and narrative.
Re-issue the brand's iconic products and script their release by anchoring them in specific periods.
PROSPECTIVE VISION : FOR WHOM, WHY AND HOW
Put at the service of brands, foresight nurtures creativity and invites us to think, depending on the sector of activity, how to respond to the changing values of our society, while always cultivating its uniqueness.
Every year, Peclers Paris brings together a panel of experts from all walks of life for a Concertation Prospective, which then takes the form of a detailed document, our bible of singular futures. We then invite our partners to share it with their teams in the form of interactive, collaborative workshops: Prospective Days. Brand strategists and industry experts from the fashion, beauty, design and consumer goods sectors can then support you in appropriating these trends and transforming them into proprietary levers.
To find out more and immerse yourself in other dynamics, don't hesitate to contact us.
Exclusive content for Peclers+ members
READ MORE