Share On
Peclers Paris has come up with the theme for the September 2023 edition of Maison&Objet: "ENJOY: a quest for pleasures". The theme explores three areas of value that place hedonism at the heart of better living, and the tribes of consumers who adopt them. The agency is also staging the theme at the heart of the tradeshow over an area of 150 m², combining design, lifestyle and artistic performance in a lively, embodied curation.
Second chapter of a 3-part discovery of the INSPIRE ME! forum meet the sensitive hedonists.
The sensitive hedonists: heightened senses
At a time when the sensoriality of the world has been undermined, human links have been stretched, digital technology continues to push back the boundaries of reality and the present is struggling to reassure, individuals are trying to rebuild a viable environment around them. They are seeking to reconnect with a form of physicality, to rediscover a sense of anchoring and intimacy with the outside world.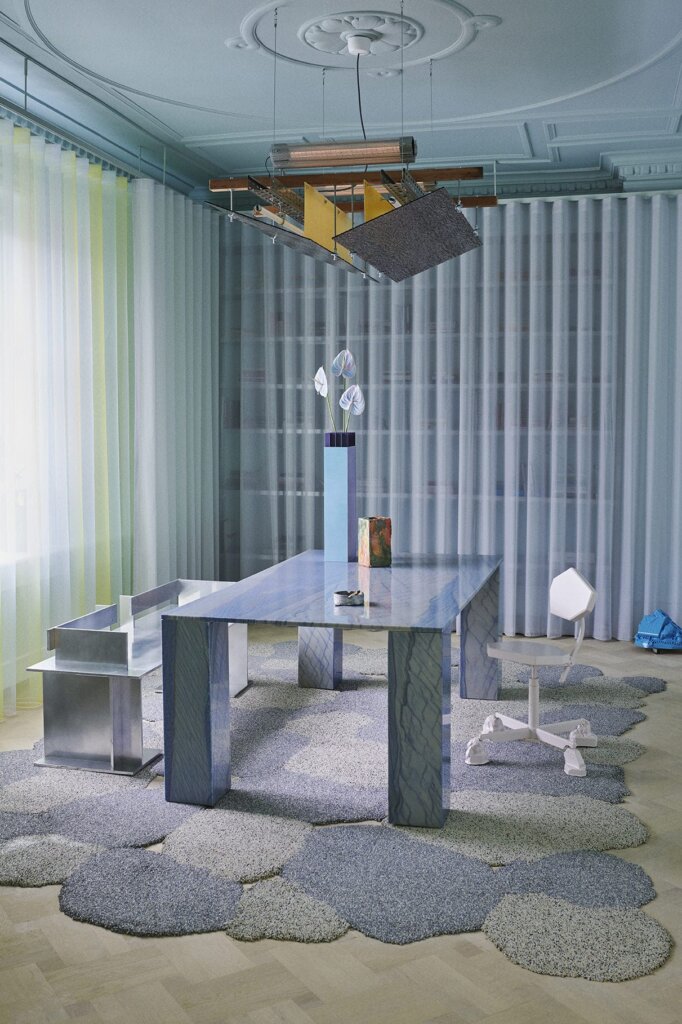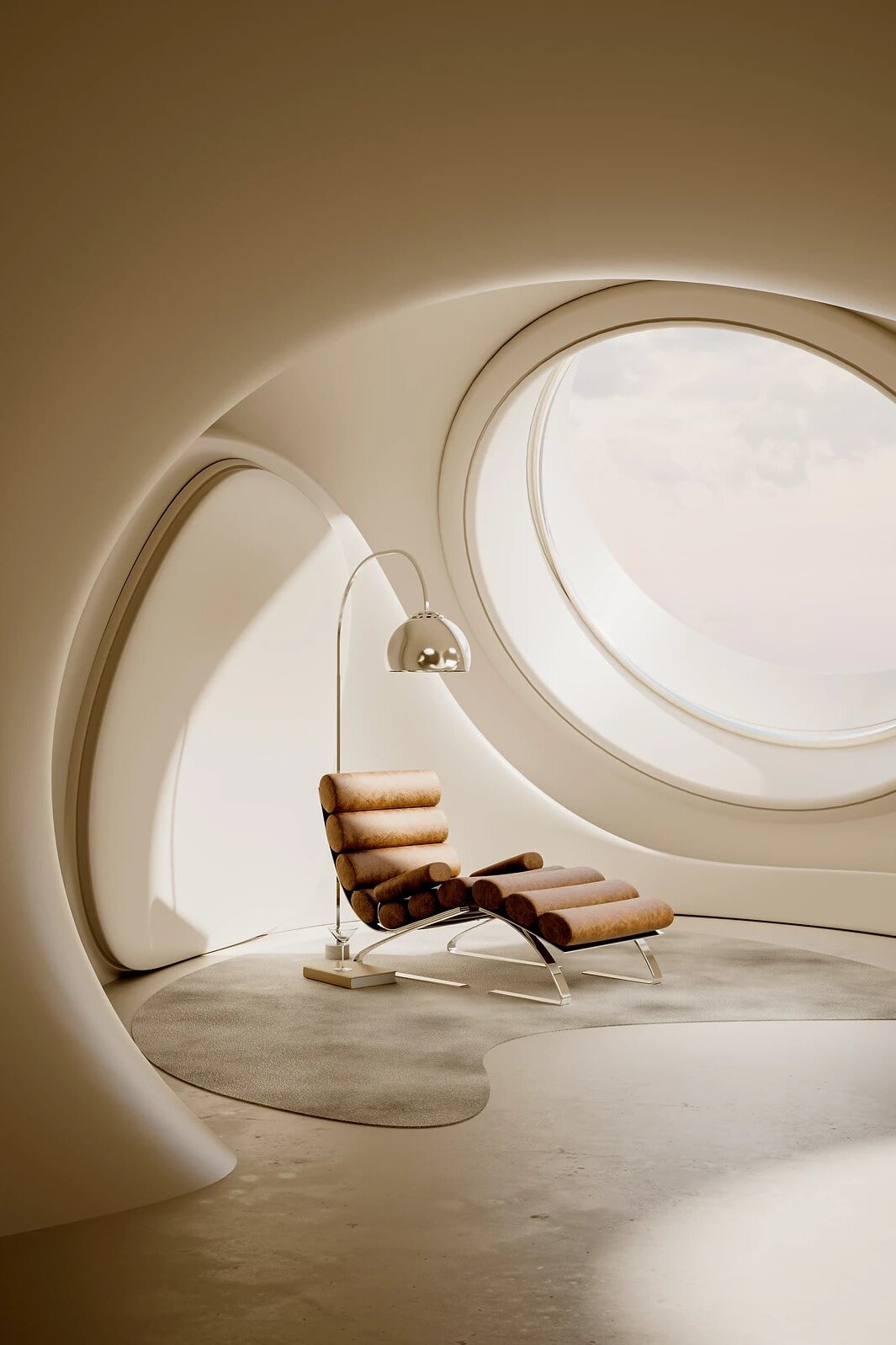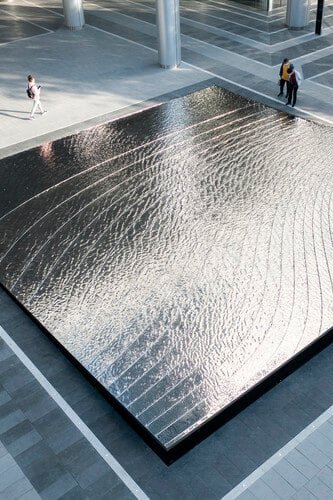 Like a new Eldorado in which to immerse themselves, sensitive hedonists use the digital and virtual world as a means of inventing a new way of being present in the world and composing imaginary escapes. Objects, gestures and rituals are used to reinvent the way we communicate with others. Reality is re-modelled through sensitive, reassuring and immersive utopias. Organic meta-therapies take their inspiration from plants and sublimate their sensoriality. The limits of physicality are pushed back to give life to new dreamlike materialities. For them, pleasure is above all a quest for intimate well-being: happiness is a form of harmony.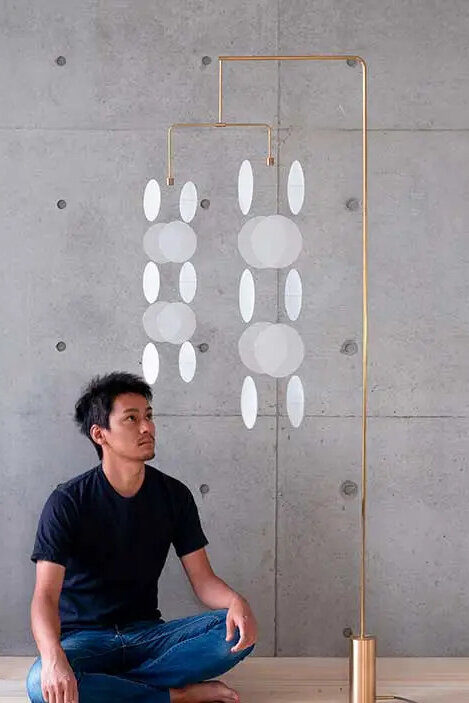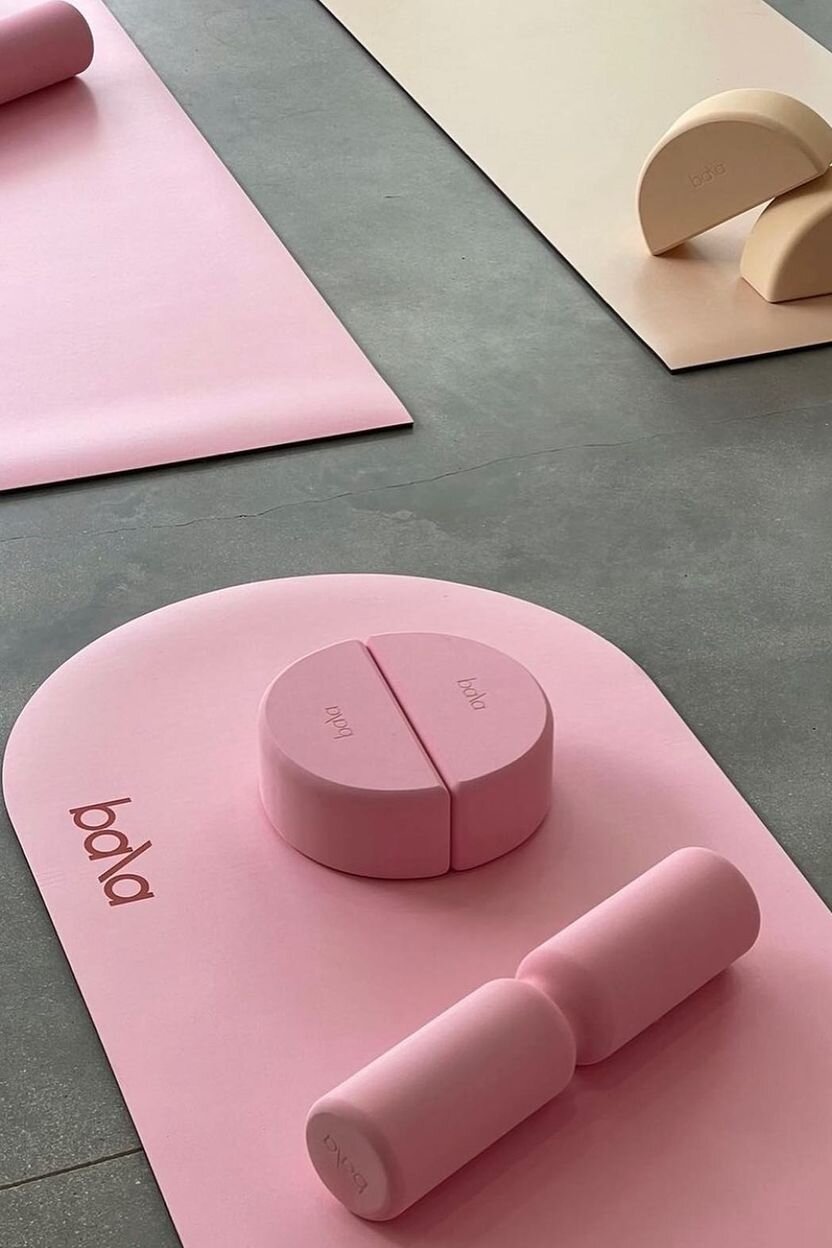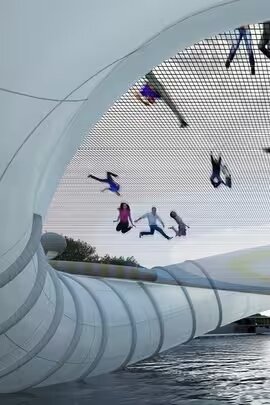 Aesthetic and functional translation: a lounge where to take of yourself, body and soul.
The living space that tells the story of sensitive hedonists: a multi-purpose room, made for living, sport, wellbeing and meditation. It's all about roundness, interplay of surfaces and transparency, shapes inspired by organic nature, real or imagined. Warm, natural neutrals combined with sheer pastels and subtle metallics.
On the wellbeing side, you'll find sports accessories such as Hercule Studio exercise mats with geometric padding, Vluv Pilates balls in canvas, and a selection of cosmetics such as CBD oil from Huages. Everything you need to pamper your body before a meditation session or, why not, a tea break, using the set by Laurence Brabant and Alain Villechange, turning the pages of a book found on the Fréquence modular shelf by Jean Couvreur for Kataba, in the light of the Soft Serve lamp by Crème Atelier, with its round 3D-printed shapes.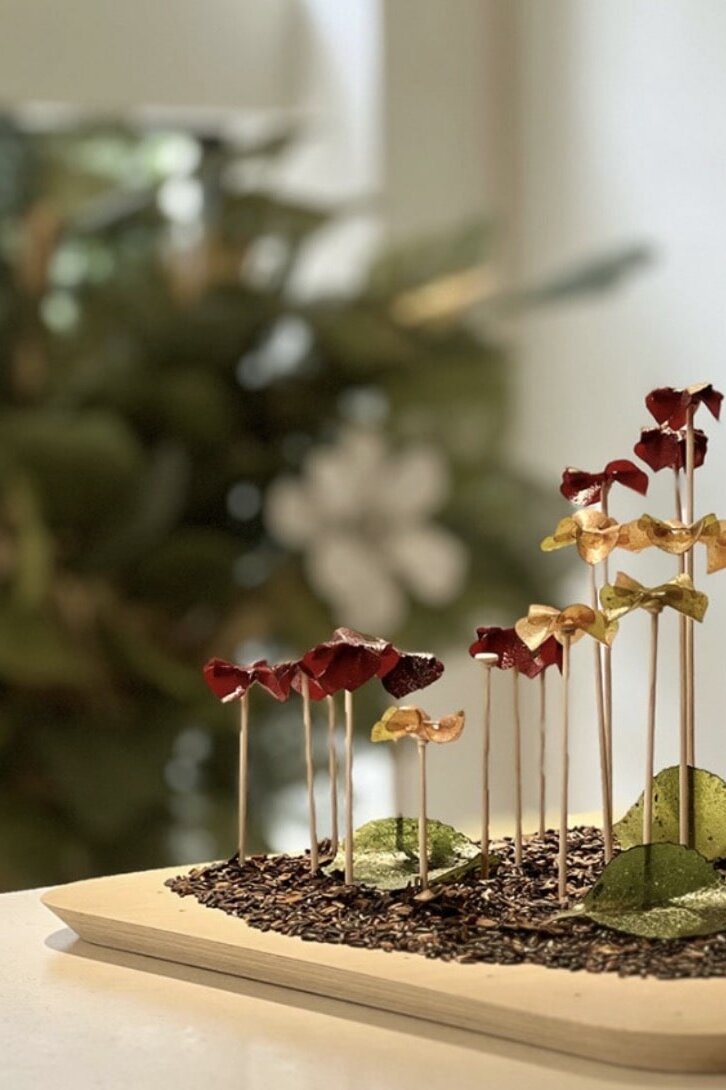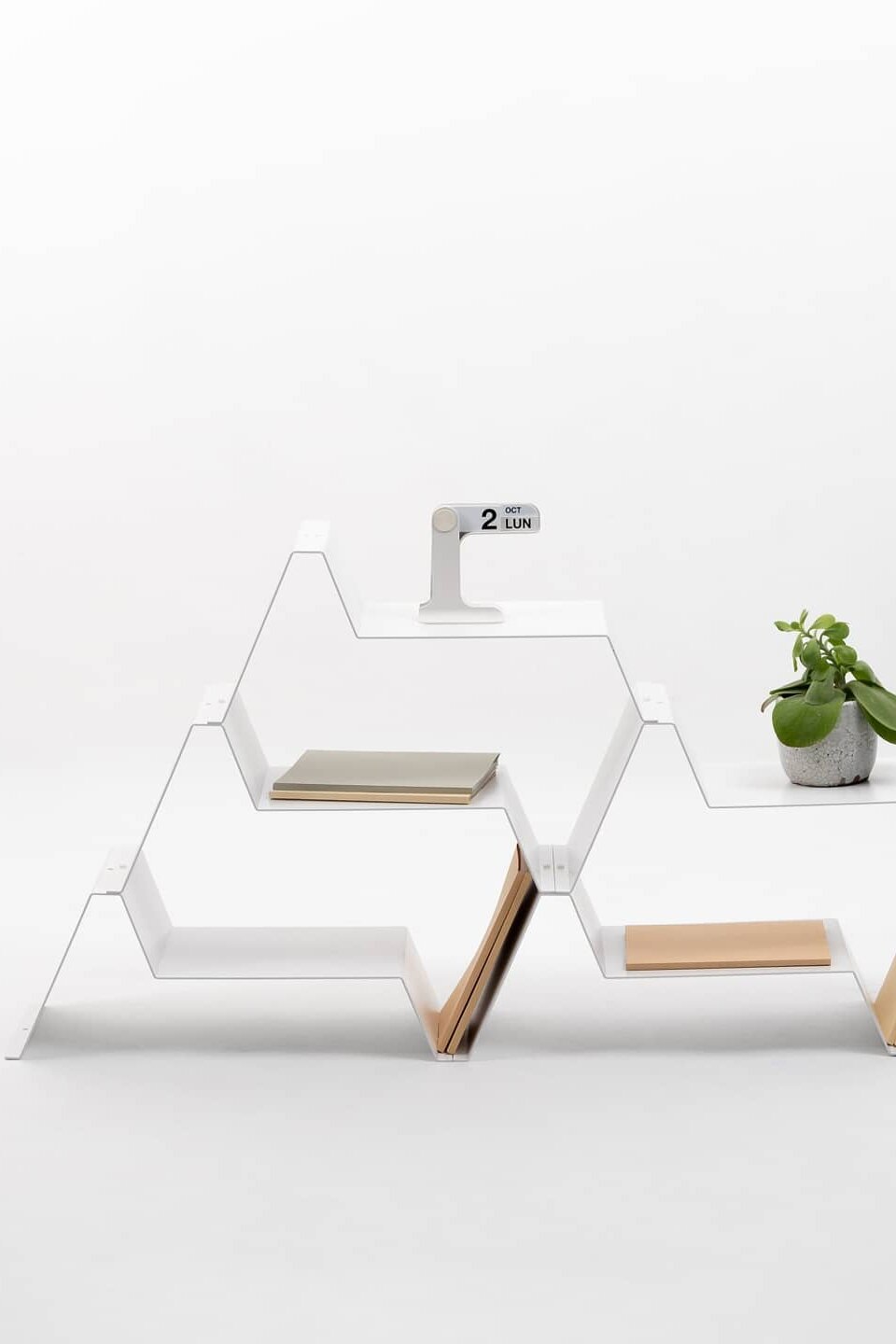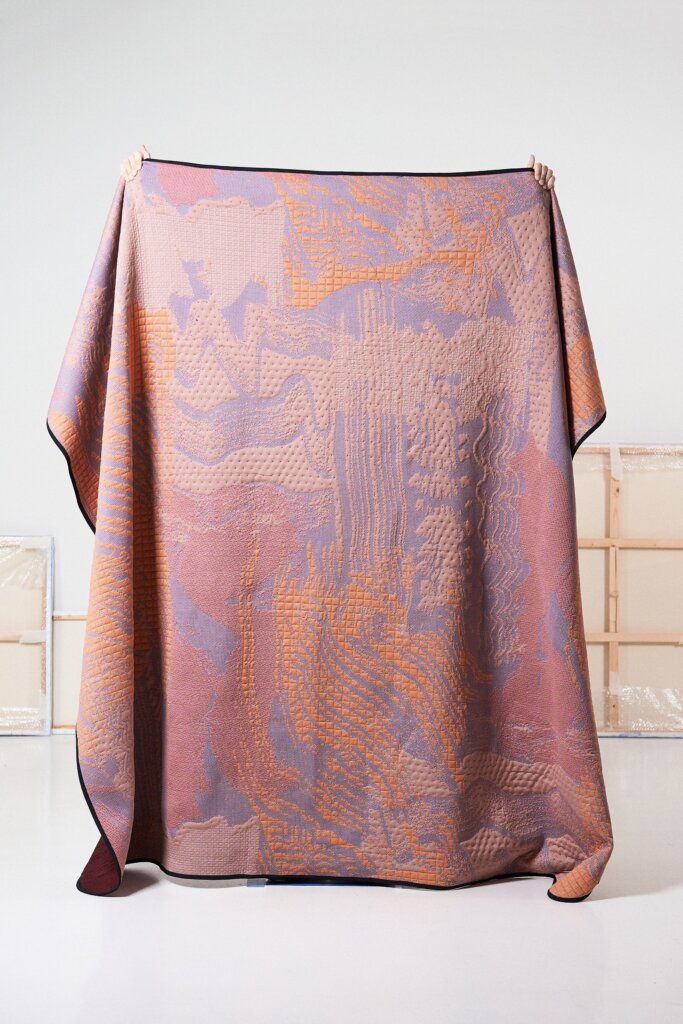 As far as nature is concerned, Tant qu'il y aura de fleurs, a poetic installation by artist Alexis Foiny, seems to respond to the culinary objects, hybrid works to look at and taste, by Chinese artist Yuan Yuan. The abstract landscape motifs of Byborre's eco-responsible textiles respond to the swirls of vases printed directly by Argot Studio and the unusual beauty of Luca Zito's lamps, trees of light and mineral concretions from another world.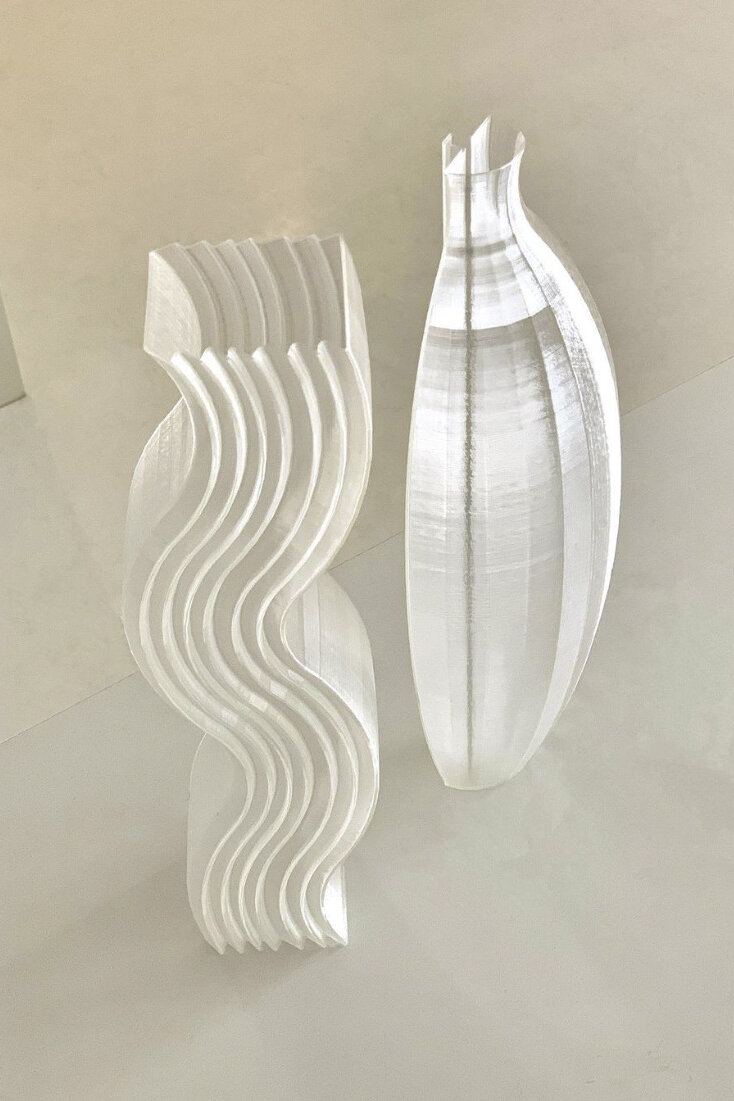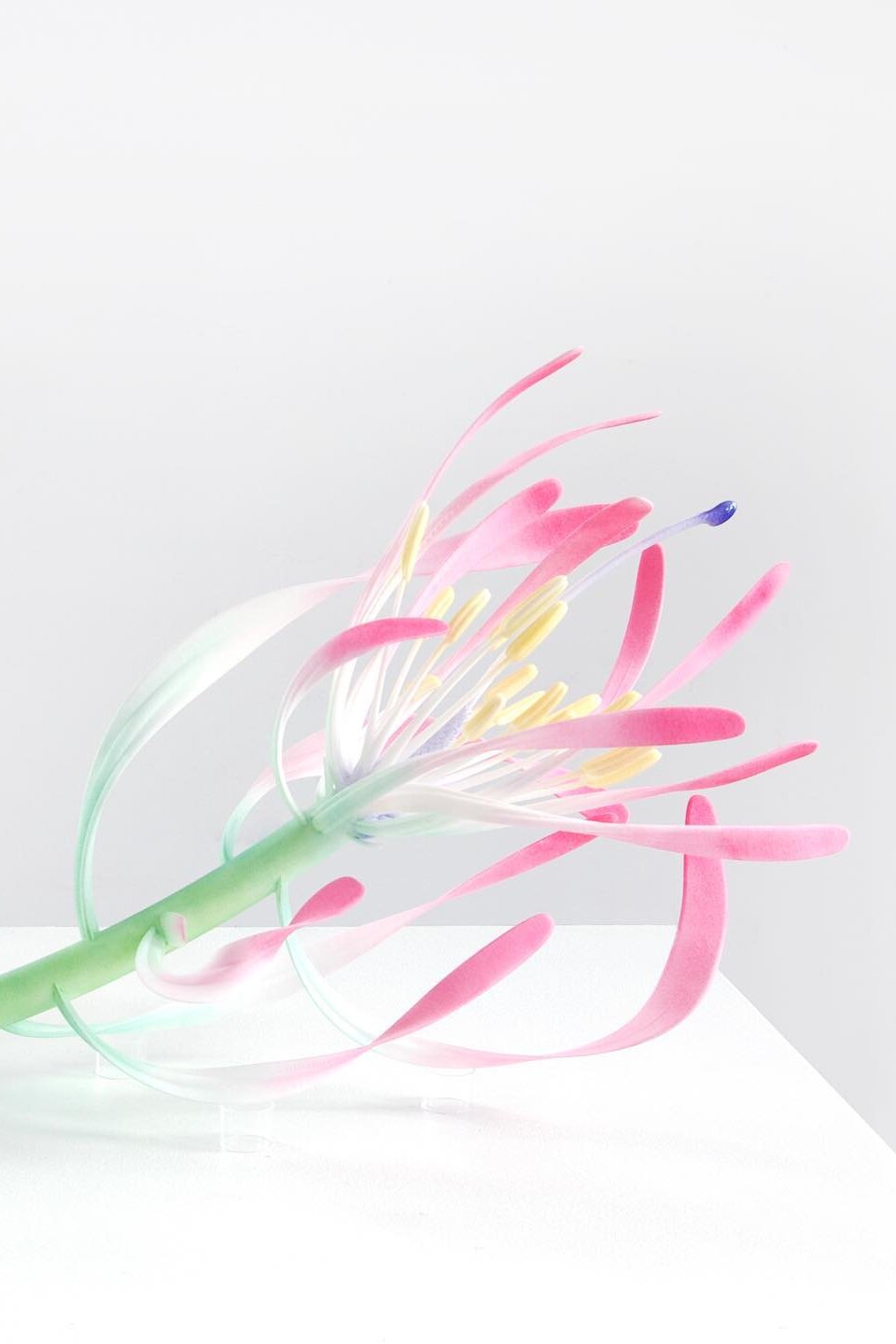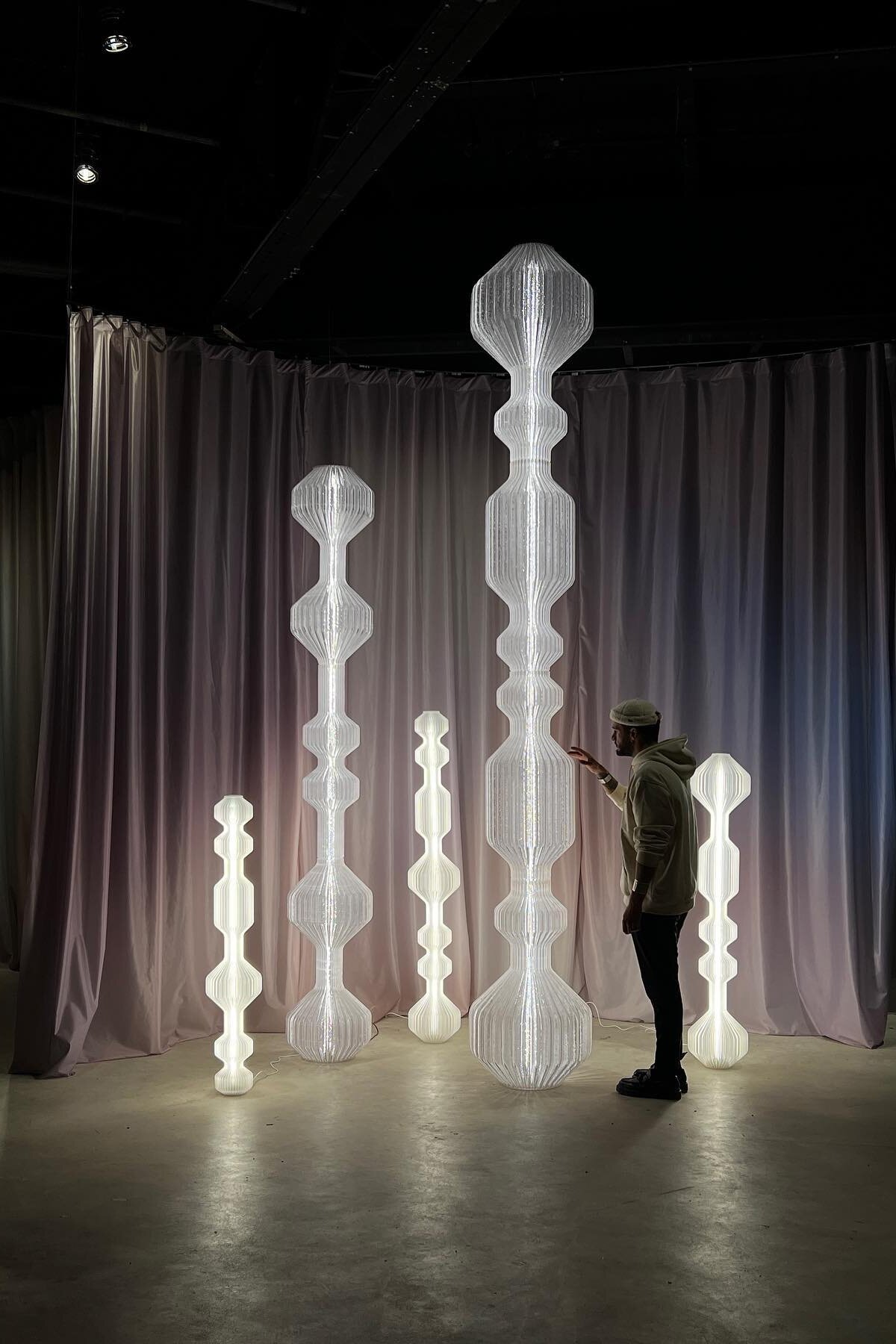 To be found in the Sensitive Hedonists section of the INSPIRE ME! forum. :
Thanks to our partners Delius for the wall cladding in the Decadent Festives and Sensitive Hedonists areas, and to Tarkett for the flooring.
---
Interview: Yuan Yuan, edible art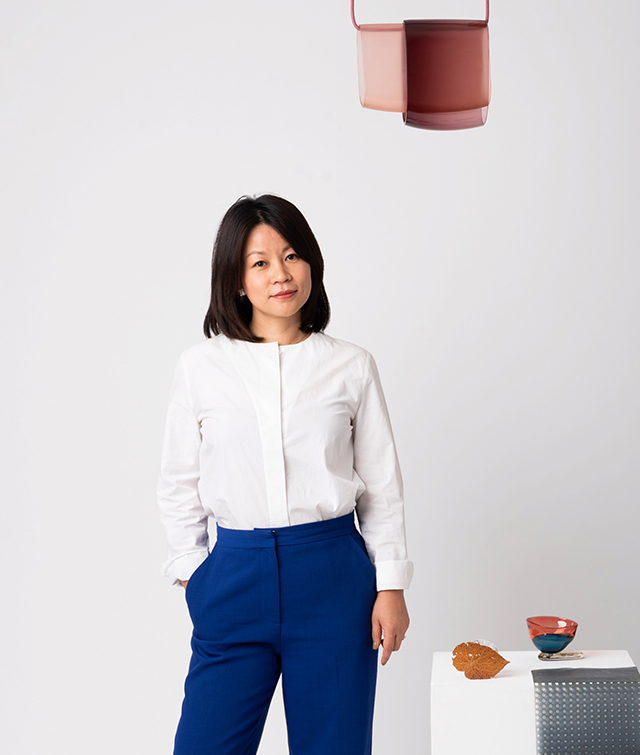 Tel us more about you ?
I am Yuan Yuan, a Chinese designer, artist and researcher based in France since 2006. I graduated from the School of Design Jiangnan University and the École supérieure des Beaux-Arts de Marseille with a master's degree from ESAD Reims in 2010. I founded Yuan Yuan Design Studio in Paris in 2014 to explore the well-being of body and mind through unique sensory experiences. I collaborate with various professionals to create connections between food and human beings, telling stories through gastronomy. My studio promotes ecological transition and culinary innovation, aiming for a sustainable art of living that nourishes body and mind, offering meaningful experiences.
How would you describe your work?
My work as a designer is characterized by an innovative artisanal approach that blends Eastern and Western cultural influences to create unique sensory experiences. I use science and new technologies to design experiences that are in symbiosis with our bodies and our environment.
Since founding my studio in 2014, I have specialized in culinary design, collaborating with a variety of clients and partners ranging from chefs and caterers to businesses, scientists, associations, and arts institutions. My work is driven by my passion for creating memorable culinary experiences, exploring the subtle connections between materials, gastronomy and craft. I strive to highlight the heritage of traditional Chinese and French cultures in contemporary design, while adopting an experimental and poetic approach that surprises and moves.
Ecological innovation is also at the heart of my work, as I firmly believe in the power of culinary design to have a positive impact on the planet and society. My aim is to create a sustainable way of living that combines food that is nourishing both for the body and the mind, unique eco-friendly objects and art installations that offer meaningful sensory experiences. In each creation, I seek a balance between creativity and functionality, highlighting the beauty of living matter and creating lasting emotional links between people, objects and nature. My work seeks to awaken the senses, tell stories and inspire a new vision of culinary art and design.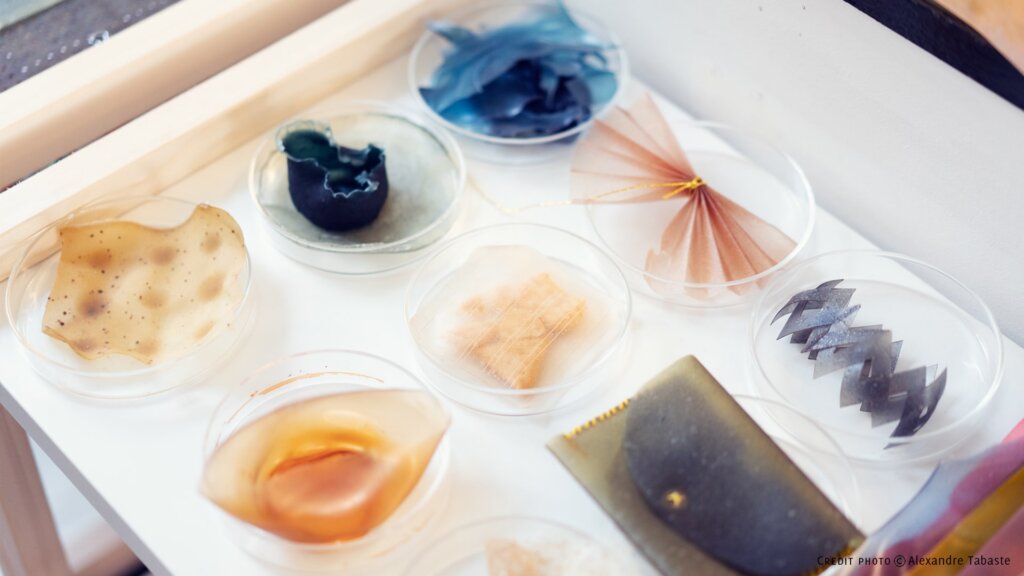 What's your obsession when you're creating?
My obsession when designing is to find a harmonious balance between form and function. I strive to solve design problems while creating objects that are visually appealing and pleasant to use. I am attentive to the value of materials and how to sublimate them, drawing inspiration from the heritage of Chinese and French cultures in contemporary design. My artisanal approach links traditional crafts, food, the senses and the environment in experimental, poetic and unexpected ways.
Your favourite material colours?
As a designer, I like bright colours and natural materials to give my creations an organic feel, with a preference for earthy tones and natural textures. Materials play an essential role in my design process, providing inspiration and defining the starting point for my design. I am particularly interested in the value of materials and their relationship with the human body and the sensations they provide.
As a culinary designer, I work with natural colours and seasonal ingredients. I like to transform food, as in cooking and fermentation, to prolong its life and exploit all its sensory richness. The diversity of colours and textures in food fascinates me and guides me in my creation. My aim is to create meaningful connections between the ingredients I use and the diners. Each dish I create tells a story through flavours, textures and colours. I want to offer unique culinary experiences that stimulate the senses and create lasting emotional bonds. The beauty and diversity of living matter are celebrated in each of my culinary creations.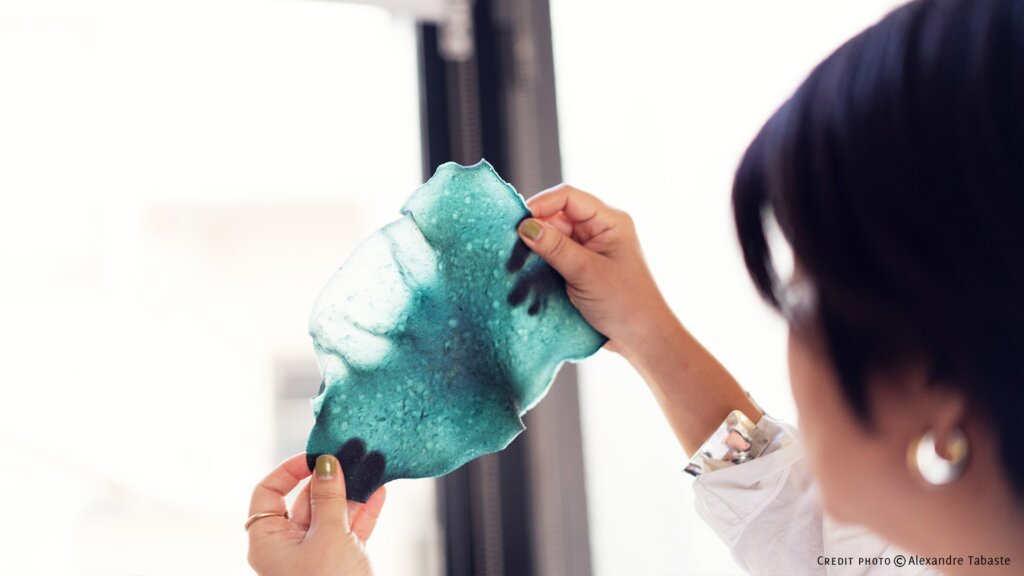 What inspires you in everyday life?
What inspires me on a daily basis are the many sources of wonder I find in art exhibitions, films, readings, photos, discussions, food and so much more. However, the most powerful and constant inspiration comes from nature. The beauty of natural landscapes, the colors and textures of flora and fauna, and the balance of complex ecosystems nourish me daily. Nature teaches me the importance of harmony and patience, and its shapes and patterns are often echoed in my creations as a designer. Love, a deep emotion, is also a precious source of inspiration, revealing the beauty of small things and fuelling my creativity in my work.
How does one create an object that brings joy?
As a food designer, I'm obsessed with creating objects that bring joy to people through food. I like to use bright colors and playful designs to brighten up the dining experience. Each dish I design tells a positive story and evokes happy memories. I add elements of surprise to create a sense of wonder. My aim is to create emotional interactions between people and food, awakening all the senses for a joyful and memorable experience.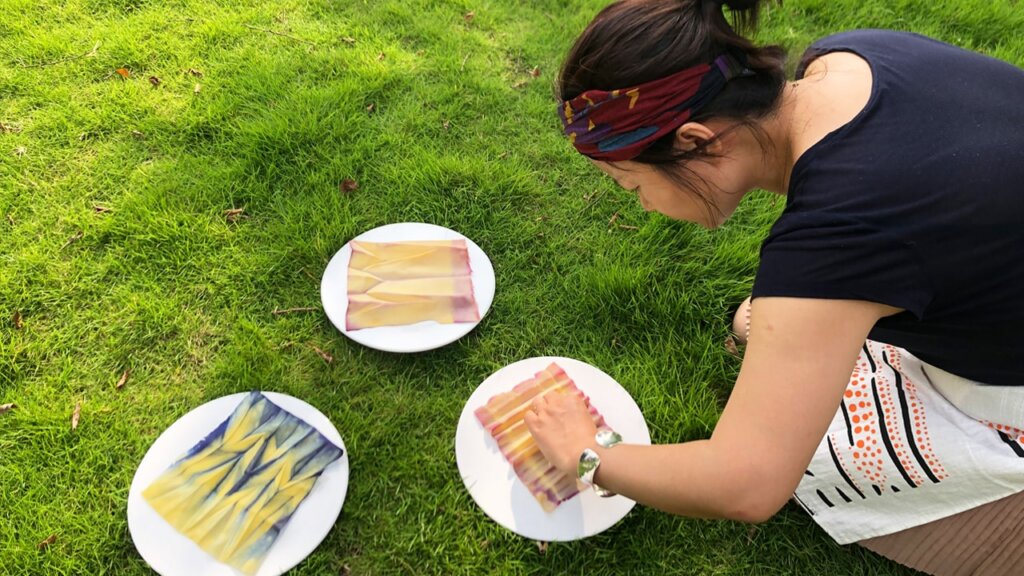 Tell us about the piece you are presenting in the INSPIRE! forum?
I'm presenting an installation entitled "Joyaux Gourmands", a limited-edition collection of edible products. This collection consists of 4 types of flowers made from fresh, seasonal fruit and vegetables, spices, and fermentations, each produced using different techniques.
The installation depicts a field of flowers in the early hours of the morning, with a delicate dew, and the stage is covered with a plant mulch made from worshipped rice and coffee pulp for a raw, natural touch. Leaves made using techniques similar to those used for flowers also decorate the mulch.
The Joyaux Gourmands are inspired by the Chinese solar calendar, which includes 24 solar periods linked to agricultural production and nature. They invite guests to reconnect with the rhythm of the seasons and harmony with living things. Each food has medicinal virtues that meet the body's needs, and the recipes evolve with the seasons to contribute to health and well-being throughout the year. This installation aims to offer a unique sensory experience that resonates with a sustainable art of living, evoking the beauty of nature and harmony with the seasons through exceptional edible products.
Dive into the other two universes of the INSPIRE ME! forum and discover the festive decadent & collective optimists tribes.
---
INSPIRE ME! forum; Maison&Objet, Paris Nord Villepinte Exhibition Centre, Hall 5A, from 7 to 11 September 2023.
ENJOY: In Quest of Pleasures conference, Thursday, September 7th, 11am, The Talks Area