Share On
Question standardization, rediscover the joy of doing and not being perfect!
Our new Environments & Design  SS 21 trend book celebrates the creativity of emerging, confirmed talents to illustrate our convictions and points of view. It will inspire you throughout the season.  Discover an exclusive interview with Diego Faivre, a young designer who, like us, doesn't want to wait. He wants to consciously react and create while taking into account today's environmental and climate challenges in a quest for aesthetic precision, emotion and optimistic design … With "Minute Manufacturing", his graduate project at the Eindhoven Design Academy, the young designer's uncommon approach to design gives us cause for reflection.
The Minute Manufacturing concept:
By contesting traditional methods for validating objects, he created a manufacturing system in which he conceives objects by counting the minutes each one takes to produce and estimates their cost based on the time spent manufacturing them:one minute equals 1 euro.
Each "product" is developed using waste items like cardboard tubes, plastic boxes or leather straps that he then covers with a colored, air-drying clay he calls "Diego paste".
SPONTANEITY AND OPTIMISTIC DESIGN
 Sandrine Maggiani: What's your motivation for creating?
Diego Faivre:"I design to create a dialogue between the serious, the absurd and the poetic. By changing the way we perceive things, we observe and give a new perspective to objects in our everyday lives."
 SM: What was your intention in conceiving the Minute Manufacturing project?
DF: I had multiple intentions. First to have more transparency in the manufacturing chain because if designers and the industry proposed total transparency by sharing their processes, they would help show the actual work, time spent and effort used to give objects more authenticity. Then I want to revalidate the human factor that we tend to forget which means that we don't actually see the effort put into making the devices we use in our everyday lives.
 SM: Why did you choose to transform or create using everyday objects?
DF: Design in our era is entirely dedicated to well-conceived, functional objects that, because they are made in series, end up becoming sterile.
What we buy becomes uniform and today it is difficult to create a unique home filled with pieces that truly reflect your personality and desires.
This project let me question uniformization, rediscovering the joy of making things, having fun and not being perfect. I inject a sense of expression and personal identity into manufacturing while denouncing the environmental effects of consumerism and the acceptance of standard shapes.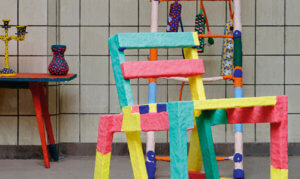 SM: What does this way of working give you personally since it emphasizes that which exists, spontaneity … imperfection … the unique object?
DF:  For me this is a way of renewing with "hand manufacturing". This way of working gives me pleasure since it creates a unique moment. It is my reflection on spontaneous gestures and cheerfulness, visible in my objects once they are covered in colored clay. Thus, by turning away from industrial uniformity and becoming unique, they stand out in a joyful, visual approach that provokes an emotional attachment to how they look and their history.
SM: How is your way of creating attached to sustainability?
DF: Sustainability is a natural part of my creation since I use worn objects or rejects that I rework to be reused and repaired in a constant evolution. I emphasize mixes of organic shapes and experiments where the relationship between the designer and material is direct and primal. Instinct tends to be present in the art world and it is interesting to bring a raw, spontaneous production to industry …