Share On
The 89th edition of the Auto World Show was held from October 17 to 23 at the Porte de Versailles in Paris.
Our experts Anne Sagant and Estelle Mysliwiak visited the aisles of this major event in the automotive world. They give you their analysis and the highlights of the show.
Which innovations to remember? What trends did they spot? (Re)experience the show in pictures!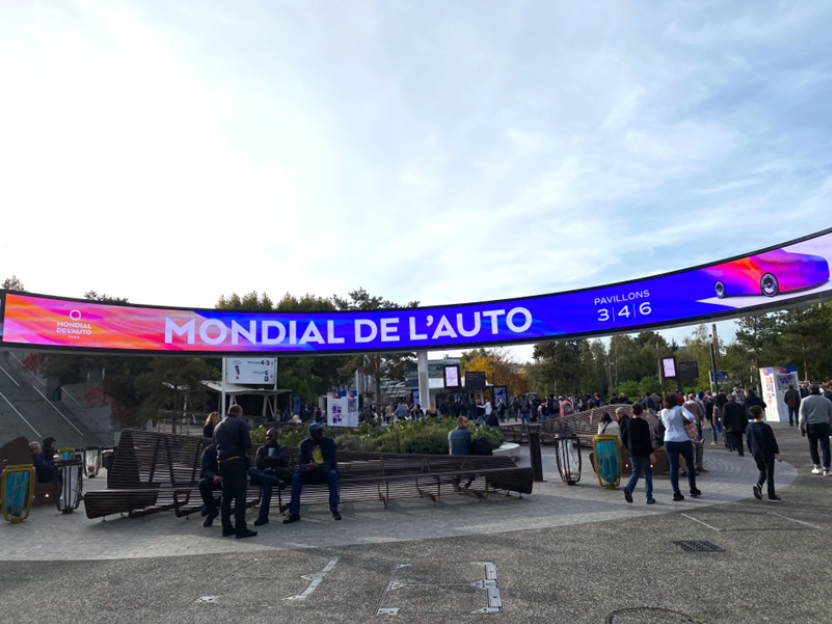 After 4 years of absence, a session under the slogan "Revolution is on" which illustrates a new vision of the automobile with the will to be part of sustainable innovation both from an energy point of view and with futuristic-inspired designs.
A focus on French and Chinese manufacturers, especially the Renault group, the star of the show, with all its brands represented, its concept cars and its vintage electric versions.
Our 3 favorites:
The French innovations on hydrogen, Namx and Hopium
The outdoor concept cars, Dacia Manifesto and the Renault Kangoo Hippie
The fun and functional urban mini cars, the Microlino and the Mobilize
SUSTAINABLE DEVELOPMENT
In a show in which the electric vehicle is king, manufacturers highlight their commitments to sustainable development and communicate less on performance in terms of speed, and more on the autonomy and reduction of the carbon index.
Beyond the electric, innovations with:
Vehicles built with recycled and recyclable materials
Hybrid electric and hydrogen engines
Two French brands focusing on 100% hydrogen
The reuse of electric batteries
RECYCLED & RECYCLABLE

RENAULT CONCEPT CAR SCENIC VISION H2-TECH: 70% recycled material, 95% recyclable
MOBILIZE CONCEPT CAR: seat in recycled material (cork & sneaker)
MOBILIZE CONCEPT CAR: 50% recycled material, 95% recyclable & reusable battery
ALPINE CONCEPT CAR ALPENGLOW: recycled carbon design
PECLERS' FAVORITE #1: two French brands that bet on 100% hydrogen

NAMX: HUV with an innovative charging system. The main tank is complemented by a set of six removable capsules for a total range of up to 800 kilometers (500km range with the tank + 300km with the capsules).
HOPIUM MACHINA VISION: a top-of-the-range, ultra-designed sedan with a range of 1000km. Construction plant located in Normandy. Marketing planned for 2025.
LIFESTYLE OUTDOOR
Rugged, all-terrain cars for a nomadic lifestyle on the go.
Functionality with clever storage compartments to store equipment inside and outside the vehicle.
Modular and designed to be a flexible, roving refuge.
THE NOMADIC HABITAT CAR

RENAULT SHOWCAR KANGOO HIPPIE CAVIAR MOTEL E-TECH: van fitted on a Kangoo base, 100% electric. Passenger seat convertible into a bed and large panoramic roof.
MEHARI EVASION: van based on a vintage Citroën model.
CONCEPT CAR DACIA MANIFESTO: removable accessories for camping, removable seat covers that turn into a sleeping bag, unique front light that becomes a flashlight.
PECLERS' FAVORITE #2: the Dacia Manifesto concept car and the stand's immersive outdoor universe

A compact and completely open SUV, which features the innovations the brand is working on:
Starkle: composite material incorporating 20% recycled plastic
Puncture-proof airless tires
Removable outdoor accessories
Removable battery charger
URBAN MOBILITY
To meet the new uses in the city, many proposals of mini cars for both individuals and professionals.
A trend towards miniaturization up to single-seaters
A mostly electric offer
For sharing or renting
New smart features: retractable wheels, removable batteries, recharging on domestic plugs…
Accessibility with driving without a license
SMART FUNCTIONALITY

CITY TRANSFORMER: Israeli brand made in Germany, the wheels widen for driving stability and retract to park sideways.
XEV YOYO: Italian brand. The removable battery system recharges at a domestic outlet, some parts come from a 3D printer & driving without a license.
MOBILIZE RENAULT GROUP CONCEPT CAR: intended for car sharing and rental. Usable without a license up to 40km/h, cargo version with possible trunk extension with a 1m3 box adapted also to deliverymen and small craftsmen. Expected to be available at the end of 2023.
PECLERS' FAVORITE #3: the fun and functional mini cars

MICROLINO: Swiss brand, 100% electric & light construction partly in aluminium. 2m50 long, can be parked vertically.
MOBILIZE CONCEPT CAR SOLO: Renault Group, electric tricycle, single-seater. Can be driven without a license, without a helmet, and without a seatbelt, in a semi-seated, elevated position. Joystick steering wheel, an alternative to the electric scooter.
FOCUS ON COLORS, MATERIALS & FINISHES
SHARP LIGHTS WITH BROKEN LINES

LINEAR LIGHTS

ULTRA-MATT, CHANGING & IRIDESCENT BODYWORK
We support automotive players in France and abroad, helping them to decipher the future of this sector and to meet the challenges of today and tomorrow.
Contact us for more information!