Share On
In the digital era, tech-cosmetics are going through a revolution accelerated by the sanitary crisis we are going through, and to satisfy a desire for "real time" personalization from increasingly demanding clients.
A quick tour of the horizon for this new generation of cosmetics that combine technology and custom-made formulas to adapt to our current needs and improve our beauty routines.
Next step for the beauty-tech: custom-made personalization

By 2023, according to an Orbis study, the worldwide cosmetics market will reach 805.61 billion dollars and overturn classic business models. Groups like P&G, Johnson & Johnson and L'Oréal have understood this. Their ambition: democratize "custom-made" skin care and make costly technologies, currently reserved for the medical world, more affordable to remain pertinent in today's ultra-competitive, ultra-innovative market.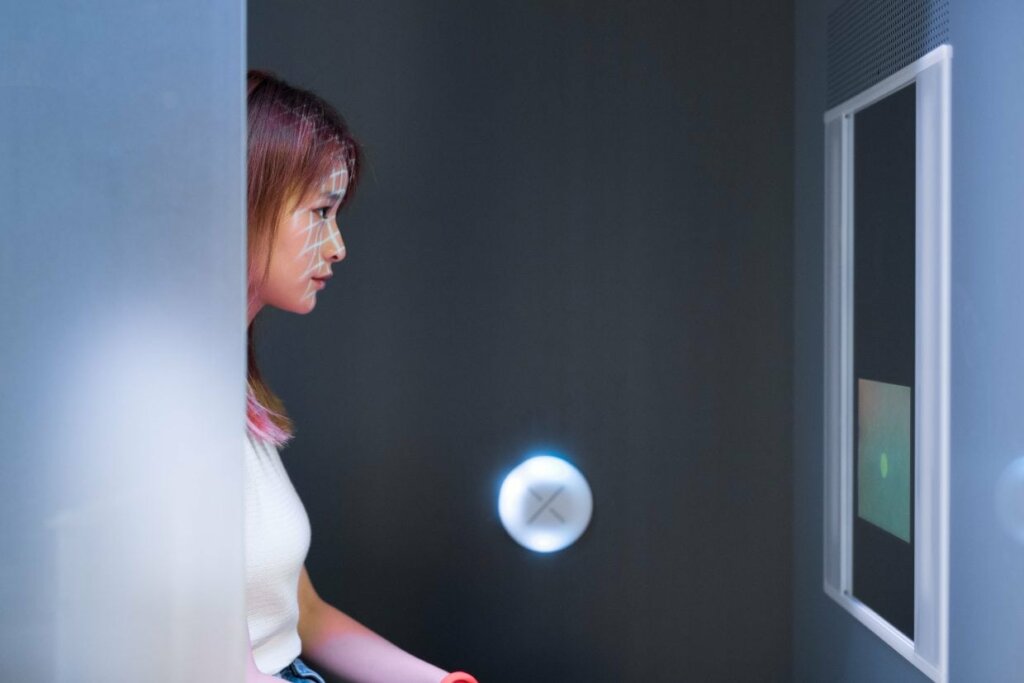 The SKII Future X Smart stores
Next step: Innovation will aim to offer intelligent skin care with measurable results that anticipate, understand and treat, at any given moment, each person's specific needs.
1- Custom-made in a 3d-printed version
Taking the opposite stance of universal products adapted to all skin types, Neutrogena/Johnson & Johnson uses 3D printing to launch the MaskiD app: personalized skin care masks printed in 3D and delivered to your home. Before placing the order for your mask, you first take a selfie to supply a multi-dimensional "map" of your skin and body type so the Skin-360 app can establish a complete diagnosis of your skin's needs.
Why they are ahead: by demonstrating a convenient way to create a connected consumer experience that takes into account the individual at 360°.
2- Custom-made and intelligent cosmetics
L'Oréal's tech-incubator developed My Skin Track pH by La Roche-Posay. This customized patch measures and monitors the skin's pH, indicating skin imbalances or ailments. A diagnostic obtained in 15 minutes on the app recommends a treatment for anticipating or treating an inflammatory reaction linked to environmental or endogenous factors.
Why they are ahead: by letting the consumer anticipate potential health problems and could also eventually help solve public health questions.
3- Everyday custom-made products and cosmetics
Proctor & Gamble has launched the Opté Precision Skincare System. Thanks to an electronic device, this skin care lets you scan your face and detect any traces of hyperpigmentation. Once the diagnostic has been done, it recommends a specific treatment.
Why they are ahead:  by injection "useful" technology with IA and using the data for  skin care and connected beauty services.
4- The diy of custom-made b2b
The French B2B Cosmetics company conceived Emuage, the first machine that can deliver personalized custom-made cosmetics to a consumer's home in a few minutes. Connected to an app, it prescribes the active-ingredient formula the skin needs at any given moment in capsule form.
Why they are ahead : its natural, transparent approach to beauty with fresh, 95% natural products that can be made in a variety of combinations based on skin type, complexion and preferences.
5- IA and facial recognition for custom-made retail
The SKII Future X Smart stores of the Japanese brand SKII are the boutiques of the future. The company has put all its emphasis on artificial intelligence and facial recognition to propose a custom-made digital skin diagnosis.
Why they are ahead: an innovative, precise, beauty-tech experience to help analyze and predict needs to find the most adapted product, while offering a meaningful consumer experience with concrete results.
To be able to anticipate tomorrow's practices linked to new technologies or respond to new consumer expectations, let our experts guide you :  Contact us